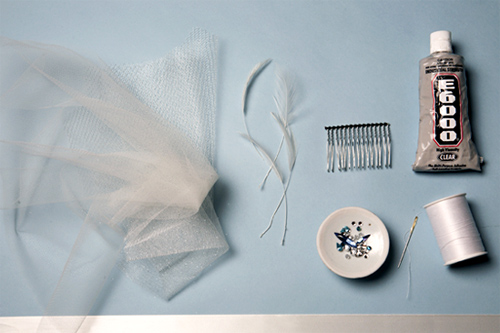 Veils are relatively easy to make, despite being rather costly in the boutiques. Making your wedding veil yourself also means choosing the exact fabric, length and colour that you want, rather than having to resort to someone else's creation.
You will need:
Fabric – the amount is up to you. Choose a textile like tulle, organza or silk and check that it falls well when draped
Ribbon for trimming (if desired)
Cotton (same colour as your veil material)
A clear plastic comb
Embellishments, if necessary (beads, sequins, ribbon, and so on)
Method:
Measure from the top of your head to the point at which you would like your veil to reach when left to hang. Cut your fabric to the desired length and width and sew a hem or trim it with ribbon to prevent it from fraying. This gives it a professional finish. Only leave the top border untrimmed and unhemmed as this will be attached to the comb.
Hand-stitch the center of the top end of the veil onto the center of the comb.
Gather both sides of the veil on either side of the stitched section and slowly stitch it to the entire length of the comb. Ensure that your comb is facing the correct way before stitching.
Add a ribbon trim or some sequins and beads to the top of the comb to hide where the veil has been stitched on, if necessary.
Image Credit: 100 Layer Cake