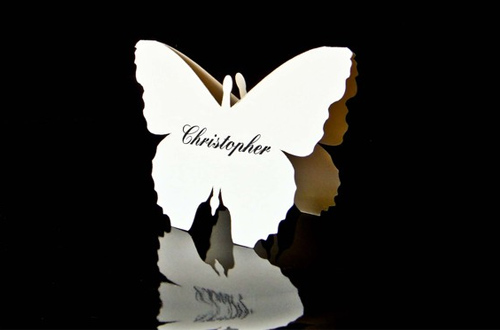 Garden or spring-time weddings are charming occasions, leaving plenty of opportunity to incorporate the beauty of nature into your theme and décor. Make your own butterfly-shaped place names for a simple, but gorgeous, addition to your table settings.
You will need:
Cardboard in the colours that you want your butterflies
A butterfly stencil
A sharp pair of small scissors
A pencil
A calligraphy pen or stickers with the guests' names on
Method:
Measure the size of the butterfly on your stencil. Then, cut the cardboard in strips that are just over double that width. Therefore, if your butterfly is 8 centimeters high, cut your cardboard in strips with a width of about 17 centimeters.
Fold these strips in half lengthways.
With the top of the butterfly stencil placed on the folded edge, draw your butterfly with a pencil.
Holding the two sides of the 'tent' together, carefully cut the butterfly out so that you cut both sides at once, leaving the folded edge uncut (to enable the butterflies to stand as tents on the table). Once cut, your butterfly should stand up unaided.
If you have a neat handwriting, write the names of the guests on both sides of the butterfly. Alternatively, print stickers and put these onto each butterfly.
Image Courtesy of Etsy