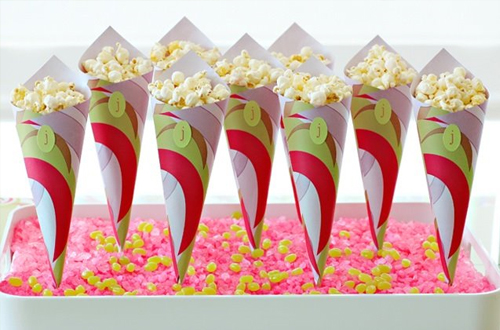 Guest gifts may become very expensive, even for something quite simple. To overcome this added expense without sacrificing your desire to provide something really special and memorable for your guests, why not make fun candy cones yourself?
You will need:
Printed or coloured wrapping paper
Double-sided tape
Embellishments, if desired (such as a sticker or ornamental heart for every cone)
Candied nuts or the sweets of your choice
Method:
Cut your wrapping paper into squares of about 20 centimetres on each side.
Pull one corner across until the square becomes a cone, with no visible hole at the base.
Stick the cone in place using the double-sided tape.
To disguise the join, add an ornamental heart, star or other design element.
Fill the cone with sweets or nuts and place it at each place setting, allowing the sweets to spill out slightly.
Image Credit: Party Tinkers