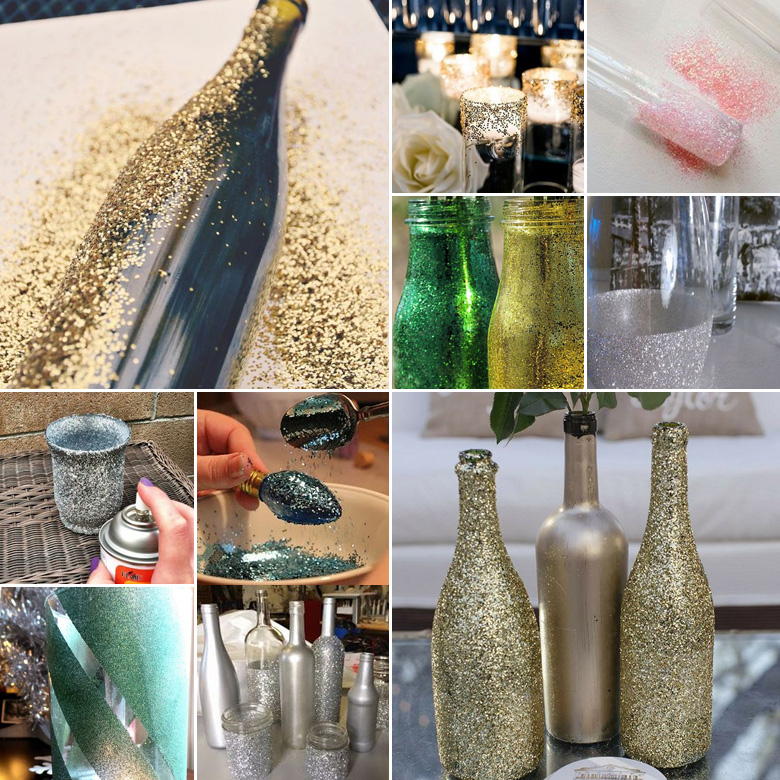 This season we've fallen in love with glitter all over again. From sparkly sequins and dazzling glitter dust – we just can't get enough! If you're equally as obsessed, give today's DIY project a shot and make your very own glitter vases for the guest tables:
You will need:
A vase or bottle of your choosing
Spray glue or spreadable glue or podge
Masking tape
A paintbrush (and an optional extra one to spread on the glue)
Glitter in a colour of your choice
To get started:
Prepare your workspace for the looming glitter mess by covering everything in newspaper, or find a large tray in which you can work.
Grab your masking tape and apply a strip to the top and bottom part of your vase, leaving the section that you'd like to glitter open in the middle between the two strips.
Now apply your glue in a thin layer – whether you brush on spreadable glue with your paintbrush or spray it on with the glue canister.
Sprinkle the glitter over your glue-covered surface. Alternatively, if the vase has a flat side, roll it in the glitter.
Using a clean paintbrush, dust off any excess glitter and place the vase aside to dry.
Once the glue is completely dry, strip off the masking tape and get started on vase number 2!
Original images and their credits available on Pinterest