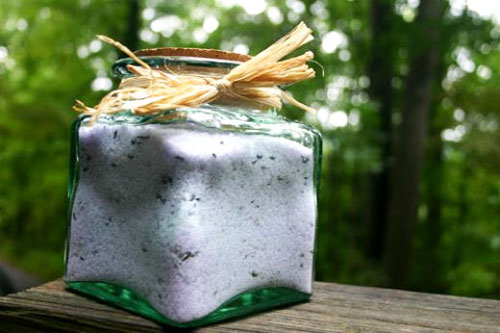 Wedding planning is a fun, but sometimes exhausting process. Whether you are the bride, groom, family member or close friend, a long, therapeutic bath may be just the thing to invigorate, energise and ease tension. This also makes a great gift for the bride-to-be and her entourage, who are likely in need of a bit of pampering.
You will need (per bath):
1 cup coarse sea salt
1 cup Epsom salts
10 drops peppermint oil
20 drops almond oil
Method:
Combine all the ingredients in a bowl and stir gently, but without crushing the salt too much.
Add to a bath of hot water once the taps have stopped running so that there is still coarse salt at the bottom of the bath.
If it is gift, place the mixture into a glass jar and wrap a ribbon or piece of raffia around the base of the lid.
The coarse sea salt will act as an exfoliant, while the Epsom salts improve circulation and reduce the appearance of fat and cellulite. Epsom salts are also fabulous for relaxing the body and the nervous system and drawing toxins out of the body.
The peppermint oil aids respiration, eases headaches, soothes aches and pains and reduces stress levels. The almond oil gives the skin a healthy glow, reduces itching and eases muscular pains.
Wedding Favour Ideas
Add a few drops of food colouring to match your wedding theme. Then add the salts to recycled jars or organza bags to serve as home-made wedding favours.
Image Credit: Jitterbug Weddings