Cupcakes are very popular alternatives to the formal wedding cake. They are easy to make yourself and lend themselves to playful decoration. They are also easier to distribute than cutting up your gorgeous (expensive) wedding cake. Here are some easy recipes:
Basic Vanilla Cupcakes (makes 12)
Ingredients
150g butter – softened
150g superfine castor sugar
175g self-raising flour
3 eggs
1 tsp vanilla extract / vanilla essence
Method
Pre-heat the oven to 180ºC.
Line a cake tin with 12 cupcake papers.
Beat the eggs lightly with a fork.
Place all the ingredients in a large mixing bowl and beat with an electric mixer for 2 minutes. It should be light and creamy.
Divide the mixture evenly between the cupcake papers.
Bake for 18 to 20 minutes until the cupcakes have risen and are firm to the touch.
Allow to cool fully before icing.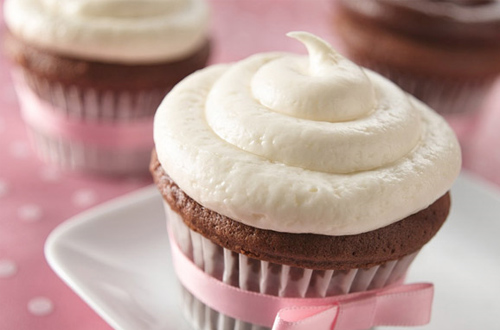 Caramel Mud Pie Cupcakes (Makes 12)
Ingredients
100g white chocolate, coarsely chopped
125g butter, coarsely chopped
2/3 cup brown sugar
¼ cup golden syrup
2/3 cup milk
1 cup plain flour
1/3 cup self-raising flour
1 egg, lightly beaten
Method
Preheat the oven to 170°C.
Line a cake pan with cupcake papers.
Combine the chocolate, butter, sugar, syrup and milk in a saucepan and heat.
Stir the mixture on a low heat until melted. Do not worry if a few pieces of chocolate won't melt completely.
Remove from the heat and leave for 15 minutes.
Sift the flours and mix them into the caramel mixture.
Stir in the egg.
Divide the mixture evenly between the cupcake papers.
Bake for 30 minutes.
Allow to cool before icing. A plain vanilla icing works best.
Decorate these with fun embellishments, edible glitter and a good quality icing. Such edible decorations can be purchased or made (depending on how brave you are feeling).