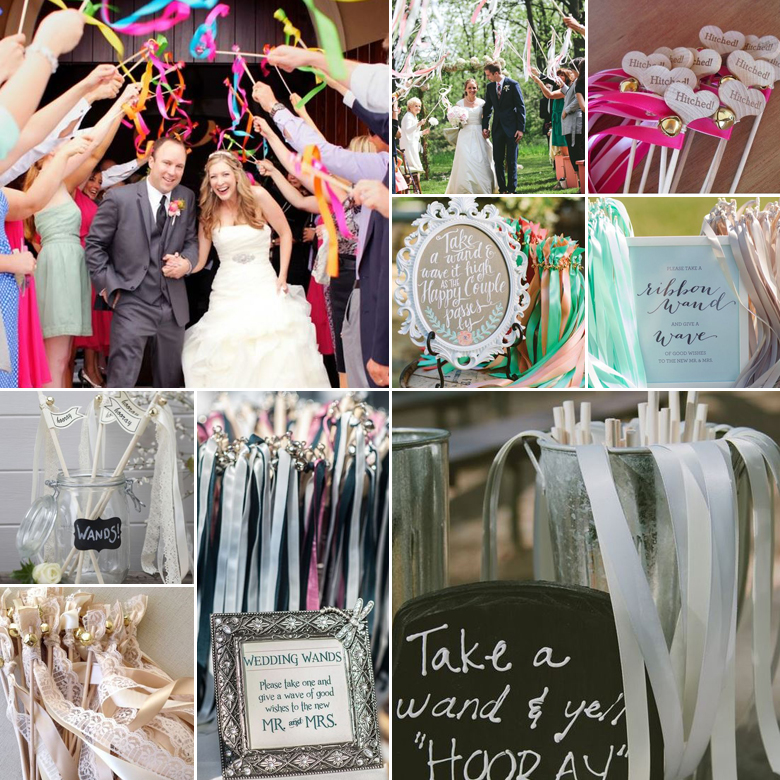 With more and more venues placing a ban on confetti, ribbon wands are becoming increasingly popular. While you can rent them or buy them, making them is tons of fun and can end up saving you more than you realise. What's more, this gives you the freedom to select the exact ribbon colours to match your colour scheme.
Here's a quick step-by-step:
You will need:
Wooden dowel sticks (cut into 20 or 30cm lengths)
Long lengths of ribbon (2 or 3 different colours, or shades of a colour)
Metal screw-in eyelets (available at most hardware stores)
Washi tape to decorate (optional)
Varnish (optional – just make sure it's paper-friendly)
To get started:
Cut your ribbon into the desired lengths. Don't make it too long, as this could be uncomfortable for guests to carry around and wave.
Dip one end of the dowel stick in water for a couple of minutes, until the wood has softened a bit.
Take one of your metal eyelets and screw it into the softened end of the stick.
Group the ribbons that have to go on the wand, and thread them through the eyelet.
Finally, knot the ribbons tightly around the eyelet so they'll stay in place.
To decorate your dowel sticks, take your washi tape and tape the end to the top of the dowel (on the ribbon end), keeping it at diagonal angle.
Wind the washi tape carefully around the dowel, making sure to press down as you go.
Using a paint brush, cover the dowel in a thin layer of varnish to keep the washi tape from peeling off.
And there you have it! An eye-catching and eco-friendly alternative to confetti.
Original images and their credits available on Pinterest