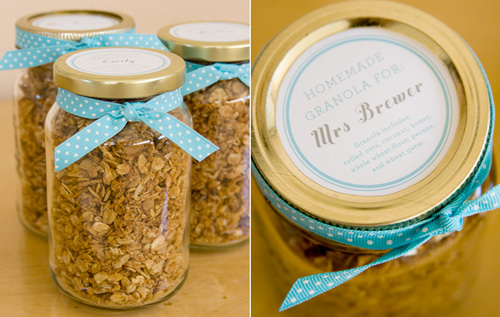 We recently saw a wedding at which each guest got a gorgeous little jar of granola as their parting gift from the bride and groom. We loved it so much that we wanted to share it with you. Granola or muesli is a much-loved favourite amongst most folk. In addition, it is easy to make, healthy, cost-effective and really different as far as wedding favours go. Putting a serving into a glass jar with a cute, personalised label is the perfect present to express your thanks to your friends and family.
You will need:
GRANOLA:
3 cups toasted oats (toast dry oats on a baking tray for 15 minutes at 190 degrees Celsius)
½ cup milk powder
1 cup chopped almonds
1 cup desiccated coconut
½ cup sesame seeds
1 cup chopped pecan nuts
½ cup cashews
1 tablespoon cinnamon
1 tablespoon vanilla essence
½ cup vegetable oil
½ cup maple syrup or honey
¼ cup tahini (sesame seed paste)
2 tablespoons peanut butter
PACKAGING:
A pair of sharp scissors
Fabric, cut into squares that are large enough to cover the top of the jar
Glass jars with lids
Labels (design and print them yourself onto stickers, it is fairly easy. Alternatively, email your design to a printer and they will do it for you)
Method:
Combine the milk powder, chopped almonds, coconut, sesame seeds, pecans and cashews in a large bowl.
Boil the vegetable oil, honey/syrup, tahini, peanut butter, vanilla and cinnamon in a saucepan or small pot for two minutes.
Combine the wet ingredients with the dry ones in the mixing bowl.
Add the toasted oats.
Mix well.
Pour the mixture onto a baking tray and bake it at 100 degrees Celsius for about 3 hours.
Let the granola cool and then put it into the glass jars. Place the fabric squares on top and then the lid, so that the fabric peeps out from beneath it. Seal the lid tightly so that the granola stays crunchy.
Put your personalised sticker (with your names or a 'thank you' messages) on the lid and, perhaps, on the side of the bottle.
Images Source: The Sweetest Occasion