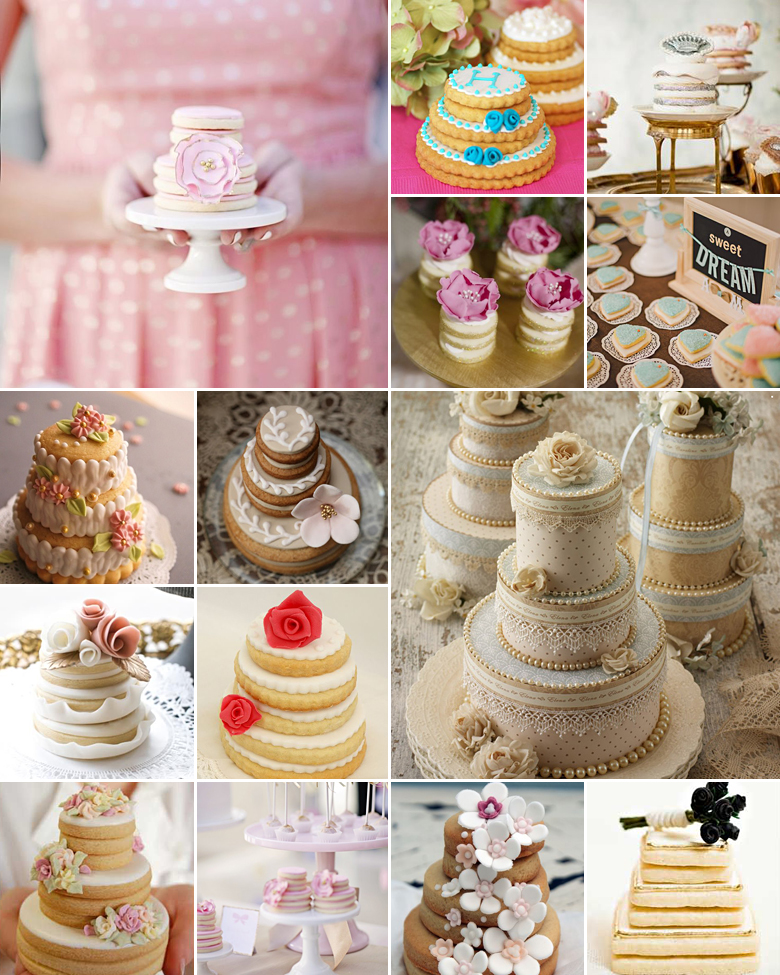 These mini wedding-cake-meets-cookie creations stole our hearts! Whether you serve it instead of a wedding cake or send them off as guest favours, they're bound to be a sugary hit!
Ingredients
8 cups cake flour, sifted
Extra flour to coat work surface
2 teaspoons baking powder
1 teaspoon salt
2 cups unsalted butter, room temperature
4 cups sugar
4 eggs
4 teaspoons vanilla essence
Directions: Making the cookie dough
Sift the flour, baking powder and salt into a large mixing bowl, and set aside.
Place the butter and sugar in a separate bowl, and beat together with electric mixer until pale and fluffy.
Add the eggs and vanilla into the butter and sugar mixture, and beat again until combined.
Gradually add the flour mixture, and beat on a low speed until dough is formed.
Divide the dough into 4 pieces.
Flatten each piece of dough into a disk and wrap it in cling wrap. Place in the refrigerator for at least 1 hour – or better yet, overnight.
Directions: Baking the cookies
Preheat the oven to 325 degrees Fahrenheit, and be sure to position two racks in the upper and lower thirds of the oven.
Take 1 disk of dough out of the fridge and let it stand at room temperature for about 10 minutes, until it's just soft enough to roll.
Roll the dough out on a lightly floured work surface, to a thickness of about ½ cm,
Use round cookie cutters to cut out 24 x 9cm circles, 24 x 7.5 circles and 16 x 5cm circles.
Transfer the dough circles onto baking trays lined with wax paper. For organisational purposes, try to keep the various circle sizes on the same sheet.
Chill the trays in the freezer for about 15 minutes or until the circles are firm.
Repeat steps 8 to 12 with the 3 remaining pieces of dough.
Bake until the edges of your biscuits turn golden – approximately 15 to 18 minutes.
Transfer the cookies onto wire racks and allow them to cool completely.
Directions: Constructing the mini wedding cakes 
Fill a round tipped icing bag with royal icing, and pipe an outline on top of each cookie – about 1\2cm from edge.
Fill in the icing outline with a thin layer of icing, and smooth it out with a small spatula.
Allow the icing to set for at least 6 hours, or overnight if possible.
Make an extra cup of royal icing to assemble the "wedding cakes".
Stack 3 large cookies on top of each other, sticking them together with dabs of icing.
Stack 3 medium cookies on top of each other, sticking them together with dabs of icing.
Stack 2 small cookies on top of each other, sticking them together with dabs of icing.
Finally, put the whole thing together with icing – small stack on top of medium stack on top of large stack.
Decorate with a small icing flower on the tippy-top.
Repeat steps 20 to 24 with remaining cookies and icing.
Allow to set for at least an hour before packaging.
Credits:
Adapted from Martha Stewart.
Original images and their credits available on Pinterest