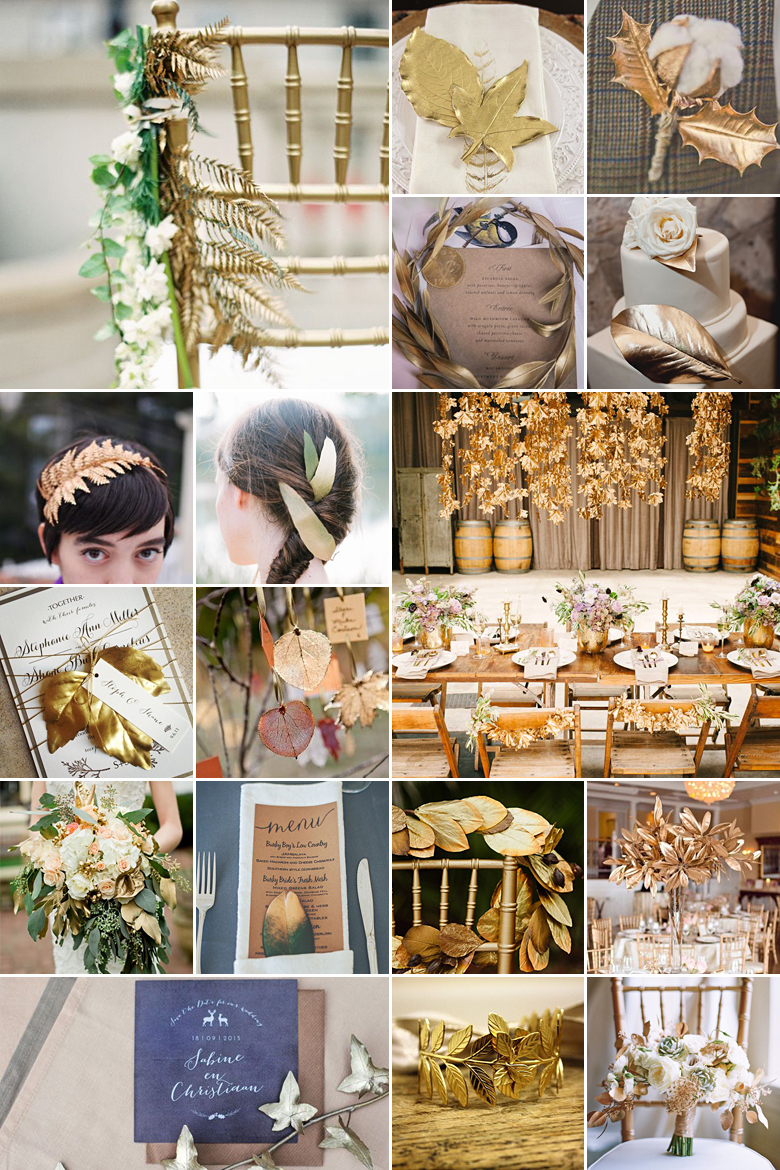 Man meets nature in today's semi-DIY post! Spray-painting leaves is an excellent way to put an elegant twist on one of Mother Nature's somewhat less glamorous offerings. When attempting this project, be sure to work in a well-ventilated space and always apply the paint in thin even coats.
In most cases, it's better to let the leaves dry out first before attacking them with the spray paint canister. However it's always best to do a couple of test runs first, spraying the leaves at various stages – fresh, semi-dried and dried – to see which gets the best result.
Here are a couple of ways to put your DIY-art to beautiful use on the wedding day:
Use small spray-painted leaves and even painted flower petals as confetti.
Hang big bunches of spray-painted leaves from the venue ceiling, chair backs and the ends of the pews.
Scatter leaves down the aisle or have your flower girl toss spray-painted leaves instead of the traditional flowers.
Use spray-painted leaves as place cards, writing each guest's name on a leaf with a permanent marker.
Place spray-painted leaves next to each place setting – to be used as a coaster.
Laminate the leaves into an A4 sheet and use it as DIY placemats.
Include branches of spray-painted leaves in your bridal bouquet and work a leaf or two into the guys' boutonnieres.
Decorate the wedding cake with shimmery painted leaves.
Work a couple of dazzling leaves into your hairstyle – whether in a braid or as a stunning garland.
Original images and their credits available on Pinterest