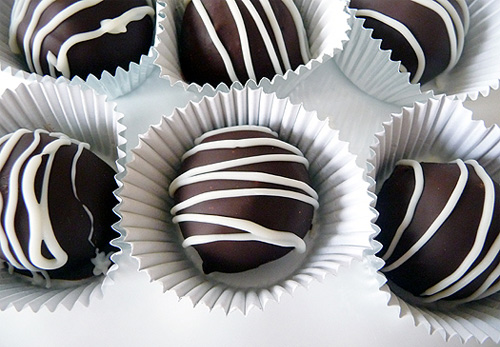 Chocolate truffles are, undeniably, one of life's truest, purest pleasures. Make your own delicious chocolate and coffee truffles, using this easy recipe:
You will need:
250 grams dark chocolate, broken into small pieces (at least 70% cocoa)
250 millilitres double cream
100 grams chocolate (milk, dark or white)
50 grams unsalted butter, diced (room temperature)
½ teaspoon instant coffee granules (or to taste)
Method:
Bring the cream to the boil in a saucepan.
Put the chocolate and coffee into a mixing bowl and slowly add the hot cream to the bowl.
Stir gently until the chocolate has melted completely.
Leave this mixture to cool for approximately 3 minutes.
Add the butter and stir gently. There must be no oil on top of the mixture, and it should have the consistency of mayonnaise.
Put the mixture into the fridge for a minimum of 3 hours.
Remove from the fridge and, with cool or cold hands, roll portions of the mixture into small balls and place these on wax paper.
Melt the white-, dark- or milk chocolate and roll the balls in this to form an outer chocolate shell.
Allow to set and enjoy these with your lover this Valentine's Day.
Image Source:http://www.browneyedbaker.com