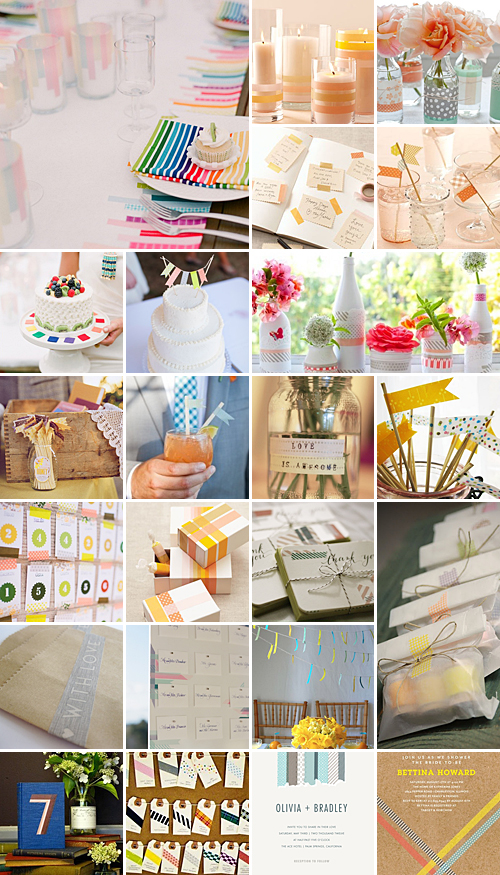 Washi tape is the latest buzz word in the wedding world and if you don't know what it is, the whole concept can sound somewhat criminal and suspicious. We can assure you however that no laundering was done during the creation of this fabulous new stationery product!
Washi tape is made from a type of Japanese rice paper and truly unique in the sense that it adds colour and detail to anything from your invitations to your wedding stationery without the slightest effort. While the first thought is to decorate only your gift bags, you can take it a step further by adorning small glass candle holders, napkin rings and literally anything you can see yourself sticking a piece of tape onto.
These little rolls of prettiness come in a wide variety of colours and patterns to match just about any theme and colour scheme, and are available from most stationery and online stores. If you don't find the particular tape you're looking for, be sure to inquire about custom made washi tape as certain stationery suppliers make the tape themselves and can therefore meet your unique requirements.
One particular way to make the most of this magic tape is to make your very own little flags using toothpicks or straws and a short strip of tape. By simply sticking two ends of the tape back to back, you instantly have the perfect flag on which to write the guest's name, name of the dish or any note that comes to mind. You can also decide to use different colour or patterned tape for each table, but try to still keep it in line with your overall colour scheme.
In this same way you can also create mini bunting for the top of your wedding cake. Simply stick the tape back to back over a small piece of string and tie each end to a skewer. Lastly, if your budget is somewhat tight, decorate sheets of ordinary newspaper washi tape to make super cute bunting and even table cloths. Oh, washi – how we love you!
For more ideas, original photos and their credits, please check out our Washi Tape Weddings Pinterest Board!