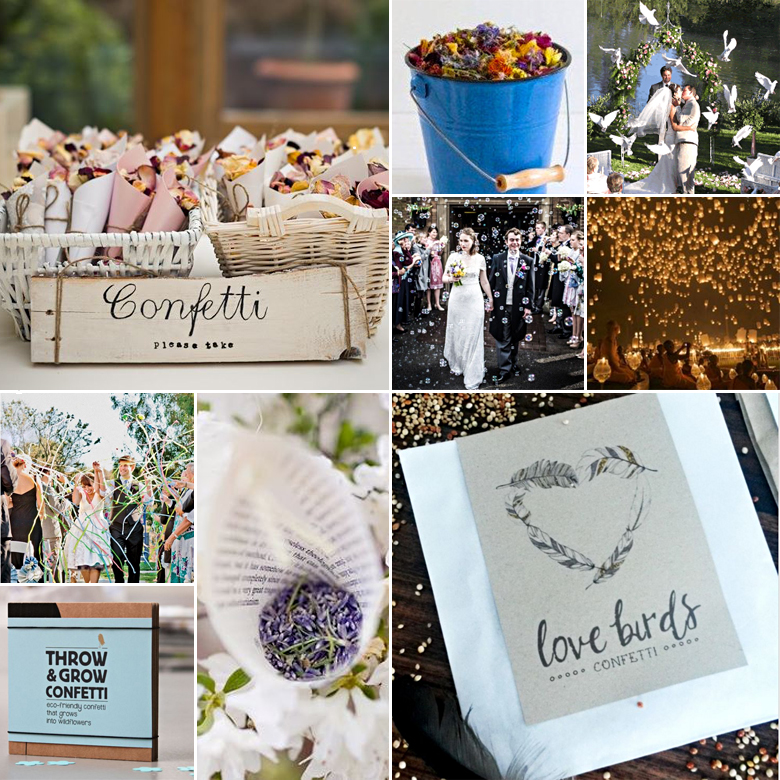 With the rise of eco-friendly living, traditional paper confetti has been dubbed a big "no-no", and most venues have even gone as far as to ban it entirely! So what to do, what to do? Simple: We've got a couple of green tricks up our sleeve:
Opt for birdseed or rice so that the birds can help clear the area after you've left.
Biodegradable paper confetti is perfect for the couple who wants to keep it traditional. What's more, it's available in a variety of shapes!
Consider alternatives to confetti that don't litter – for instance, pinwheels, balloons or ribbon sticks that guests can wave in the wind.
Hire a professional bird tamer to release pigeons as you exit the ceremony venue.
Rose petals are a beautiful and still traditional option, but you can also consider other flowers like hydrangeas and baby's breath.
Bigger elements like streamers aren't eco-friendly but are easy to clear away after the wedding.
If you're hosting an evening wedding, sparkler sticks are simply beautiful and oh-so enchanting, as are Chinese lanterns (though bear in mind that you need permission).
Lastly, bubbles! Need we say more?
SHOP CONFETTI PRODUCTS HERE
The requested RSS feed cannot be loaded at this time. This XML document is invalid, likely due to invalid characters. XML error: Undeclared entity error at line 22, column 68
Original images and their credits available on Pinterest