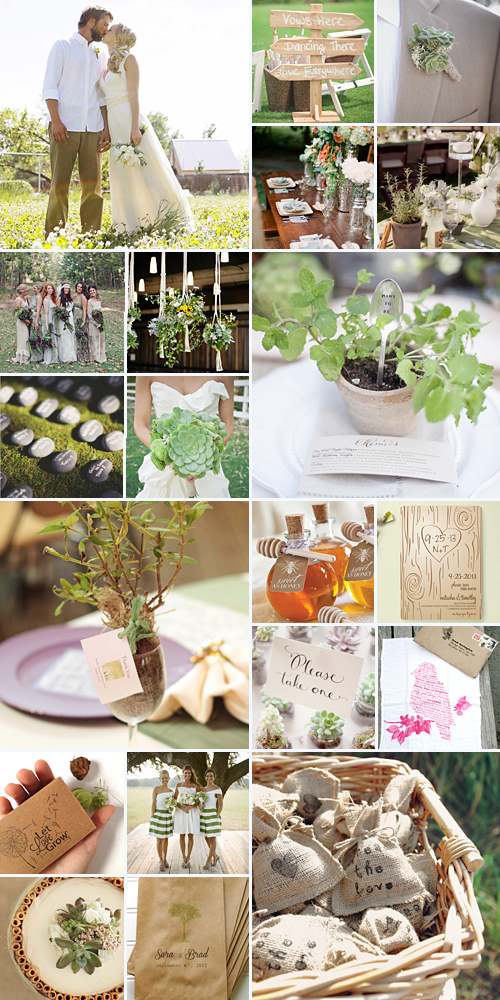 Having a 'green' wedding involves more than simply indulging yourselves and your guests in a fun theme. Rather, it is a result of your commitment to preserving natural resources and minimising the potential negative impacts of your big day. There is a multitude of things that may be done in order to handle your ceremony and reception in a way that is both special and responsible.
Your wedding does not have to be boring just because it's eco-friendly! Greens and browns are typically the colours you can consider if wanting to achieve an obvious eco-friendly colour combo for your wedding. Ways of incorporating eco-friendly items into your wedding would include the following:
Give guests a gift of seeds in recycled brown paper packets as a wedding favour.
Consider using pot plants on your wedding tables and invites guests to take them home with them at the end of the reception.
Replace your name tags on tables with pebbles from your closest beach that can be taken home by your guests or put back where they were found.
Consider making use of serviettes that are recyclable.
When making use of paper for your menus, invitations or other wedding stationery, opt for recycled paper.
Try incorporating flowers from your own garden or someone from your family's garden – this adds a personal touch to your day as well.
Chat to your wedding venue and / or wedding caterer about putting together an organic menu and avoid making use of disposable plates.
Consider having the wedding outside during the day – this reduces the amount of electricity used for lighting.
Original images and their credits available on Pinterest