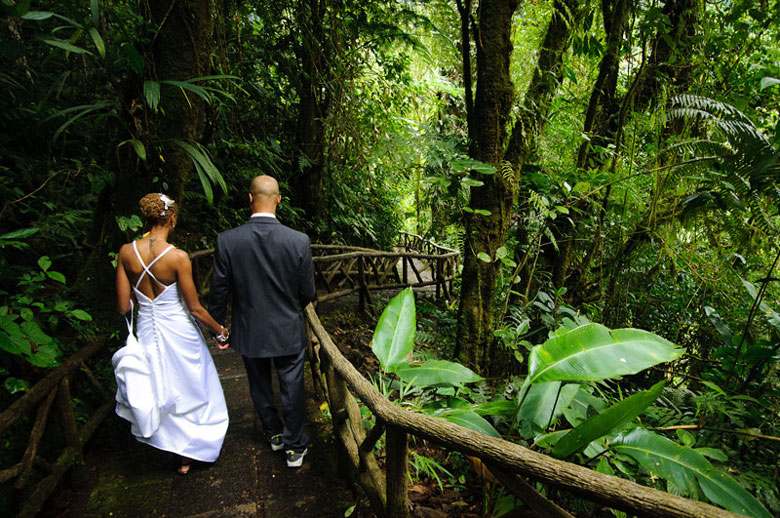 An "ethical wedding" refers to one for which the bride and groom have made every effort to spare the environment, reduce pollution, avoid the wasting of resources (material, natural or monetary) and reduce the unnecessary negative effects left by the ceremony or reception. There are so many ways to ensure that your wedding is ethical is some or all of these areas. For example:
Use the internet wisely by sending out electronic invitations. They require no trees to be chopped down and leave no remains to pollute the environment. Likewise, request that RSVPs be sent via email. You may even dedicate an email address to this cause (e.g. ourweddingrsvp@hotmail.com)
Instead of buying a brand new wedding dress, recycle, refashion or alter an existing one. It can be your grandmother's wedding dress, one that you found in a second-hand shop or an evening dress to which you have added some sparkles and pizzazz
Alternatively, have a new dress made using only environmentally-friendly fabrics (e.g. cotton that was grown and picked in ethical ways)
Choose a dress design and colour that you can wear again
Ensure that your shoes are not made from animal products (suede or leather)
Instead of driving to the honeymoon destination, take a train trip there. This reduces your fuel consumption and air pollution. It is also a more relaxing way of travelling as you can make the journey part of the overall honeymoon experience
Rather than giving people wedding favours that may cost a lot and never truly be appreciated, give each guest a packet of seedlings of indigenous trees, fruit or vegetables. These are practical, novel and will remind your guests of your special day every time they see their plant flourishing
Ask guests to give ethically-oriented gifts rather than generic crockery and kitchenware. This could include yoga classes, a meal out (saving you money and allowing you time together) or a donation towards one of several charities of your choice
You may choose rather to ask guests for home-made gifts. This usually results in very interesting and far more meaningful keepsakes from those most special to you
Make your own cake with fair-trade ingredients (items that have not been produced by violating human rights in any way)
Ensure that your ceremony and reception venues take steps to recycle, minimise pollution, save water and reduce power consumption
Serve vegan meals or use organic and free-range animal products. It may be a good idea to let guests know this so that their awareness is raised for future choices
Consider carefully whether you really want and need the added extras that often exist at weddings (e.g. centrepieces, bouquets, bridesmaids, groomsmen, etc…). If you are happy not to have these at your wedding, you will save a lot of money. Ironically, although these are thought to be standard characteristics of a wedding celebration, few ever notice when they are missing
Accessorise with "pre-loved" items from second-hand stores or borrowed from friends and family. Any diamonds should be sourced from conflict-free providers
Rope friends in to help wherever possible. Get friends to do your hair, make-up, flower arrangements and décor, if possible. Even your jewellery can be hand-made by a creative or artistic friend for a unique, personalised piece
Ethical weddings are a personal choice and are meant to ensure that, as a couple, you feel comfortable with the choices you have made in the celebration of your union. That is why it is so important to stick to your values and defend them. This will result in a day that is truly reflective of the two of you.
Photo Credit: weddingscostarica.wordpress.com