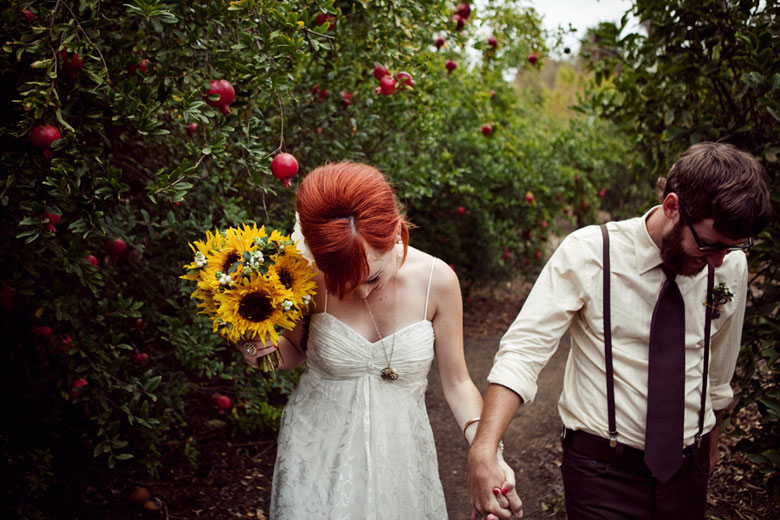 Having a 'green' wedding involves more than simply indulging yourselves and your guests in a fun theme. Rather, it is a result of your commitment to preserving natural resources and minimising the potential negative impacts of your big day. There is a multitude of things that may be done in order to handle your ceremony and reception in a way that is both special and responsible. Here are some tips to being a green-minded bride, groom or wedding planner:
Use the internet as a valuable tool and send out electronic invitations, rather than ones printed on paper or card. E-invites do not require the chopping down of trees and do not leave anything behind that may pollute the environment. Remember to request that all RSVPs be sent via email too, so that money and materials are preserved. Some couples have set up an email address dedicated to this cause (e.g. ourweddingrsvp@gmail.com).
If you definitely want a physical wedding invitation, opt for recycled papers and natural embellishments (such as real flowers, feathers and grasses).
Consider recycling, refashioning or altering a pre-loved wedding dress rather than investing in a brand new one. Ask relatives for their old gowns, or peruse the local second-hand shops and antique stores. Be innovative in your personalising of the dress, adding unique touches that characterise your own tastes and personality. Your dress will be exclusive and eco-friendly.
If you are unable to find a used dress or have your heart set on a new one, ensure that it is made using environmentally-friendly fabrics such as cotton that was grown and picked in ethical ways. Choose a design and colour that you are able to wear again so that your dress is recyclable.
Do not wear wedding shoes or accessories made from suede, leather or fur.
Although traditional wedding favours are almost expected nowadays, many guests and bridal couples agree in their ultimate futility. Rather, give your guests a packet of seedlings that will sprout indigenous trees, fruit or vegetables as gifts. These are useful and innovative and will be a romantic reminder every time the guests enjoy their plant's flourishing.
On your invitation, request that guests give you something with the environment in mind, rather than simply giving vouchers or appliances. These can include yoga classes, plants or recipes for organic meals. Alternatively, ask them for gifts they have made themselves, reducing their own financial and energy costs and also providing you with a valuable item.
Your wedding cake, meals, coffee and so on should be made using fair-trade products and ingredients.
Ensure that your ceremony and reception venues will be recycling scraps from your big day, minimising pollution, preventing the wasting of energy and saving water. They should have some form of certification to prove this.
Save money and resources by choosing not to have items that are usually expected. These may include centrepieces for the tables, bouquets, bridesmaids, and so on. It is very often the case that, although these have become traditional, few miss them when they are not there.
Make sure that your diamonds are conflict-free (certification must be made available), and source all jewellery from second-hand stores, or borrow it from friends and family.
Get your friends and family to help wherever possible. Ask them to do your hair and make-up, assist with flower arrangements and have a hand in your décor, if possible.
Opt for taking a train to your honeymoon destination, rather than driving there. This will decrease the amount of fuel you use and air pollution caused. It is also often cheaper and is a more relaxing way mode of travel, allowing both of you to see the scenery.
Photo Credit: inthenowweddings.com