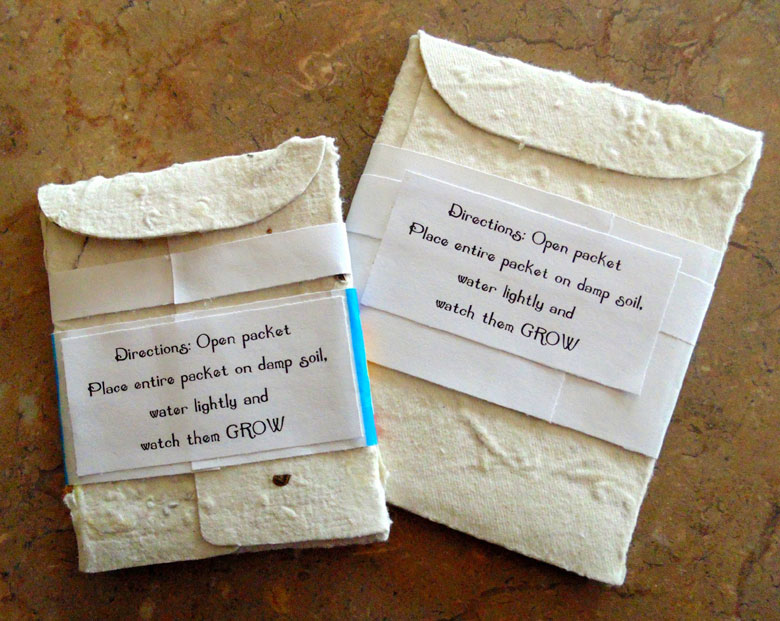 As the world continues to look for innovative ways to promote environmental sensitivity and awareness, various designers and manufacturers also successfully come up with gorgeous new ideas that are irresistible to the greenminded bride (and the commercial market in general). One of these great ideas is to embed seeds into recycled paper for a practical, sustainable alternative to wedding 'paperwork'. This makes it look textured and fun, but serves another purpose. The paper can then be planted and watered, allowing the seeds to germinate and grow into a plant that will serve as a lasting reminder of your special day.
Significantly, this does not affect the impact and beauty of your wedding invitations, menus, programmes, and so on. Rather, the paper is aesthetically elegant, with a whimsical appeal that will enhance the fairytale romance of your wedding day. It also raises awareness amongst your guests about the importance of using environmentally-sensitive products, and serves as a keepsake for them, encouraging them to care for and grow your seeds in honour of you, the couple. Consider including an explanation somewhere as to why you chose this paper and instructions on the method of growing the seeds.
Seeded paper is made from recycled paper, and can be embedded with the seeds of wild flowers, grass or a variety of herbs. The ink used to print your invitation wording or menu items is water-based, so that it will not leak chemicals into the soil once wet. The paper is organic or recyclable, so that it either breaks down in the soil, or can be removed after germination and recycled for the creation of more eco-aware products such as this.
The process of making paper requires that vast amounts of water be used. Greenminded companies will ensure that such water is not wasted, but is reused in some way (such as farming, gardening or manufacturing).
Using seeded paper as your invitations and 'thank you' notes actually saves you, as the bridal couple, money and effort as these double as guest gifts. Giving wedding favours that last will ensure that your guests treasure the memory of your day. Ask your service provider to create fun blends of seeds that your guests can use in a practical way, such as rocket, thyme, chamomile, chillies and mint.
Because this paper is custom-made for brides- and grooms-to-be, you are able to have plenty of flexibility in terms of the dimensions, colours and wording that you desire. You are also able to choose from a variety of products, including:
Save-the-date cards
Invitations
Menus
Programmes
Place name settings
Calendars
Gift tags
Confetti (a great selling point for outdoor venues that are concerned about waste and litter)
Photo Credit: arnoldgrummer.blogspot.com