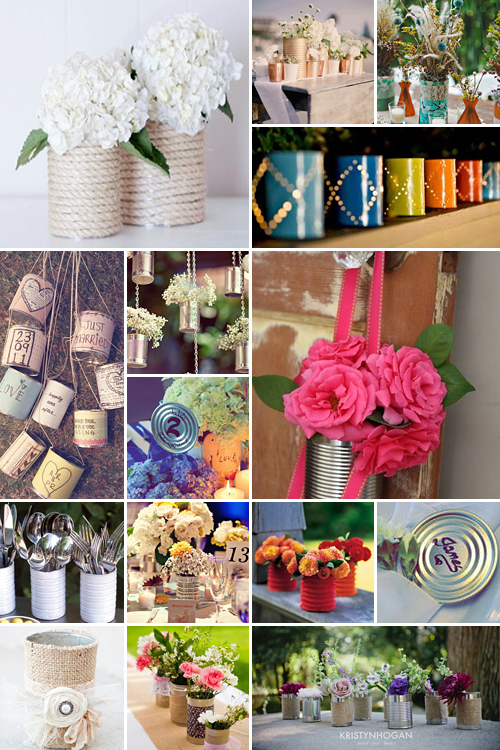 Better warn hubby-to-be that he'll be eating plenty of baked beans and sweet corn over the coming months! Tins are the perfect household goodies to recycling for your wedding day – an idea that's both budget-friendly and every DIY-lover's dream.
Before you put them to good use, you can decorate your tins by wrapping 'em up, using anything from lace, scraps of wallpaper and cute gift wrap to burlap, fabric off-cuts and gift wrap. Feel free to add little embellishments and bits of bling like vintage brooches, rhinestones or pearls, or even spray paint them in a colour of your choice. For a more rustic look, place the tins in water for a week or so until the edges acquire just the right amount of rust.
Once they're all pretty and decorated to your fancy, tins make the most lovely flower containers which can be grouped on guest tables, strung from the ceiling or trees, attached to the chair backs or lined up on the mantel. Alternatively fill them with eats, treats or little plants to be used as guest favours, or use them as cutlery holders on the buffet table.
Another lovely idea is to make your own customised lanterns! Simply fill your tin with sand (to cushion the blow) and use a hammer and nail to make holes all around the sides, in any pattern of your choice, for the light to shine through.
Original images and their credits available on Pinterest