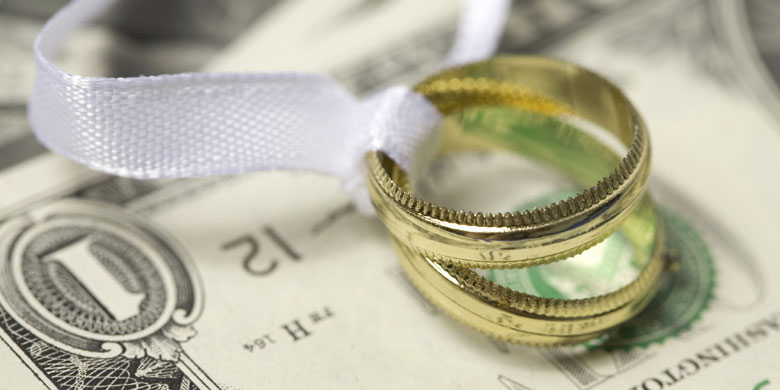 The idea of saving money on your wedding usually evokes mental pictures of resorting to tea and biscuits in your parents' garden in celebration of your union. However, saving money does not have to mean that you negotiate on your dream day. Instead, it means a little bit of forethought and creativity to achieve a personalised, glamorous wedding.
Here are some useful tips and hints to assist you to save on the costs that you may have thought to be essential:
Be on the Prowl
Be strict about your budget for specific items (such as your wedding dress, wedding cake, invitations, and so on), and do not negotiate on this. With a lot of shopping (who's complaining?) and some innovation, you will eventually find what you are looking for at the price you can afford. Of course, this may mean visiting flea markets, antique stores, second-hand shops and novelty boutiques. If you are consulting with a bridal boutique for your wedding gown, ask them if they have any clearance items or slightly damaged dresses (the damage may simply mean a few new buttons or a torn hem to be darned).
DIY
If you are even slightly creative, consider making things like your invitations, place settings, flower arrangements and wedding cake yourself. You will save loads of money and are assured of a completely unique, personal touch to your wedding.
Pick a Date
The day, month and season in which you have your wedding day may have enormous implications in terms of your costs. Make enquiries and, if you can get your venue and / or honeymoon for less because it is in off-season, go for it. This has many advantages. For one, your guests get to travel in off-peak times, saving their own costs on accommodation and transport. Secondly, you can use your less common timing as a basis for your theme. For example, if you have chosen a winter date, go with a snowy fairytale theme. Note that there are always fabulous specials just after Christmas, allowing you to purchase crockery, decorations, stationery, and so on for greatly reduced prices.
Rope in Your Friends
Do not be afraid of asking your friends and family to help. If they have certain skills (such as baking, craftwork or make-up application), ask if they would mind helping you. If you feel a little awkward, ask them whether that can be their wedding gift to you, so that they are freed from the added obligation of buying you something. By involving your nearest and dearest, they will feel that they had a very special part to play in your wedding, and you will save a lot of money.
Keep it on the Down-Low
When you are consulting with caterers, suit hire outlets, decorators and entertainers, do not let them know that you are planning a wedding. Many vendors' prices go up automatically when they discover that the quote is for a wedding. Rather, be confident as you ask them for a quote, mentioning as much detail as possible without confirming that it is for a wedding.
Working according to a strict budget does not mean that you have to relinquish your dream day. The effort, innovation and fun that you have in planning it will, inevitably, be worth it when you get to spend your savings on a fabulous honeymoon or on furnishing your new home together.
Photo Credit: bargainlifestyle.com