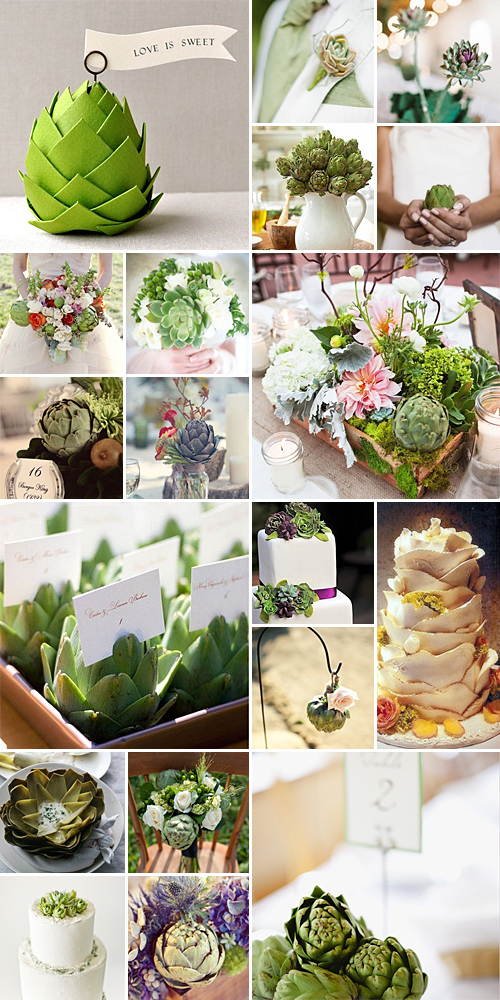 "Going green" can be interpreted in many creative and unique ways, but not many steal the heart as well as being good for the heart. The artichoke is really considered the protea of the vegetable world and can be as lovely when arranged in a crystal vase as it is when displayed in an enamel jug or on a plate, lathered in butter or creamy white sauce.
Make artichoke candle holders! Simply cut out the middle leaves, hollowing it out to a certain extent, and place a tea light in the hole.
Instead of flowers, opt for an artichoke bridal bouquet and arrange a bunch of veggie-flowers in vases for simple yet eye-catching table arrangements.
Place individual artichoke heads at each of the table settings and slip the place cards between the "petals".
Serve mouth-watering artichoke canapés, starters or mains like stuffed baby artichokes or grilled artichoke hearts.
With its many layers, an artichoke is often used in speeches to replace the onion, which you'll agree has become somewhat of a cliché.
Instead of flowers or other cake toppers, have the cake decorated with artichokes and succulents for an organic yet rustic appeal.
Attach artichokes to the groom and groomsmen's lapels and line the wedding aisle with large open artichoke heads.
Make nature-style bunting, using a combination of artichokes and resilient flowers. Simply thread onto fishing line and suspend from the rafters.'
Original images and their credits can be found on Pinterest.