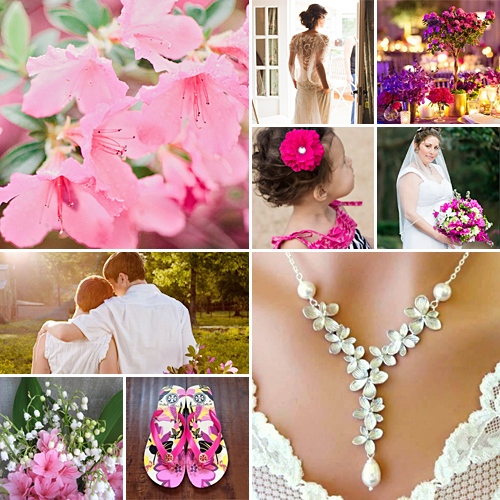 When it comes to soft velvety blossoms, the azalea is one of the first flower species that spring to mind. What truly sets the azalea apart from other flowers, is its rumpled and frilly petals which are somewhat reminiscent of soft fabric. Aside from using the actual flowers in your wedding, you can therefore also draw inspiration from the flower's characteristic appearance and complement it with other similarly feminine décor elements – for instance, think ruffled bridesmaid dresses, napkins and bordered table cloths.
While you might confuse it with the rhododendron, the reality is that you're not far off the mark, as these two flowers are very closely related, complementing each other exceptionally well.  Strictly speaking, the azalea is a shrub and more often than not the blossoms are even more strikingly beautiful when displayed with the leaves still attached. In fact, you can even go as far as to use the entire potted plant as table, aisle decoration or sustainable guest favours.
From a more symbolic perspective, the azalea is often associated with femininity and softness, and is therefore the type of flower that you would give to someone that's near and dear to you. In some parts of the world, the flower goes hand in hand with fragility, passion and temperance whereas places like China commonly associate it with thoughtfulness and pensiveness.
Azaleas are available in an extensive plethora of vibrant colours such as pink, yellow, purple and cream. Should you be arranging your own flowers for the wedding day, remember to cut them in the early hours of the morning, before sunrise, as this will ensure that they flourish for longer.
Original images and their credits available on Pinterest