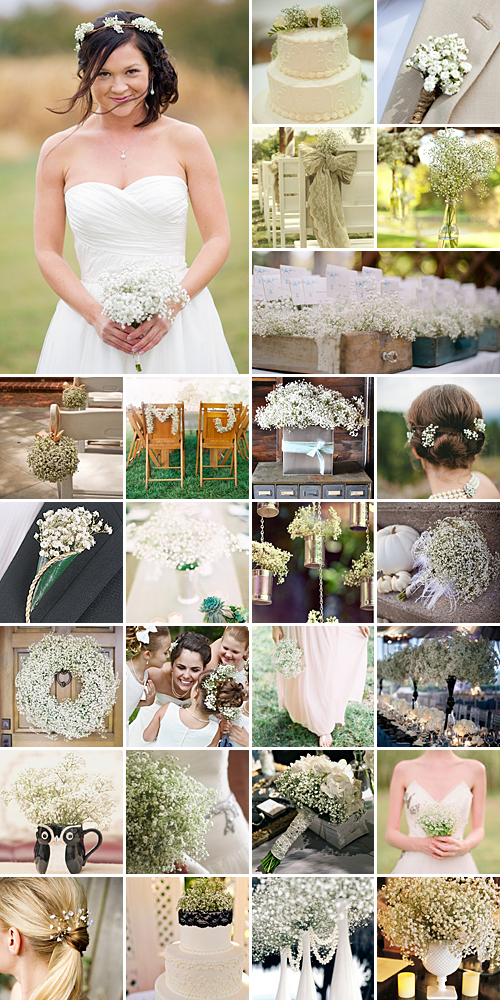 Until very recently, baby's breath was considered nothing more than a bouquet filler – too insignificant to feature on its own and too bland to make much of an impact. But boy – is your flower arranging mother, aunt and grandmother in for a surprise! Nowadays there's no better way to make a statement than with an understated bunch of fragrant baby's breath, and yes Auntie Sadie – baby's breath alone!
This delicate flower epitomises all that is natural, dainty, fragile and untainted in this world, which is really why it's so popular in this organic day and age. Is it floral or is it foliage? You decide. To effectively incorporate baby's breath into your wedding day décor, it's important to keep all the other surrounding elements equally as simple as possible, or risk overpowering the wispy flowers.
When using or arranging baby's breath, there's the option of using tightly packed bunches as the flowers tend to have more impact when bound together. However a few fresh cuttings are a whole different kind of lovely, as this highlights the flower's delicate nature.  Now for a couple of in-progress ideas:
Wear a simple baby's breath wreath in your hair, carry a tightly packed bouquet of baby's breath and wrap a couple of cuttings around your wrist.
Combine baby's breath with raw, non-flowery elements such as natural wood, moss and succulents.
On the non-natural font, the idea is to use elements that ultimately complement the femininity of baby's breath, whether it be contrasting elements like tin and burlap, or equally delicate materials like lace and porcelain.
Decorate your wedding cake with fresh floral sprigs or opt for layers of baby's breath in between the cake tiers.
Instead of using the stems as they are, chop them up into tiny pieces for your confetti or simply to sprinkle on the guest tables.
One brilliant characteristic of these precious flowers is the stems' ability to bend. So use this to your advantage by twisting baby's breath around wire shapes and letters to create monograms and hanging décor pieces.
For more Baby Breath Wedding Ideas, make sure to check out our Baby Breath Pinterest Board!