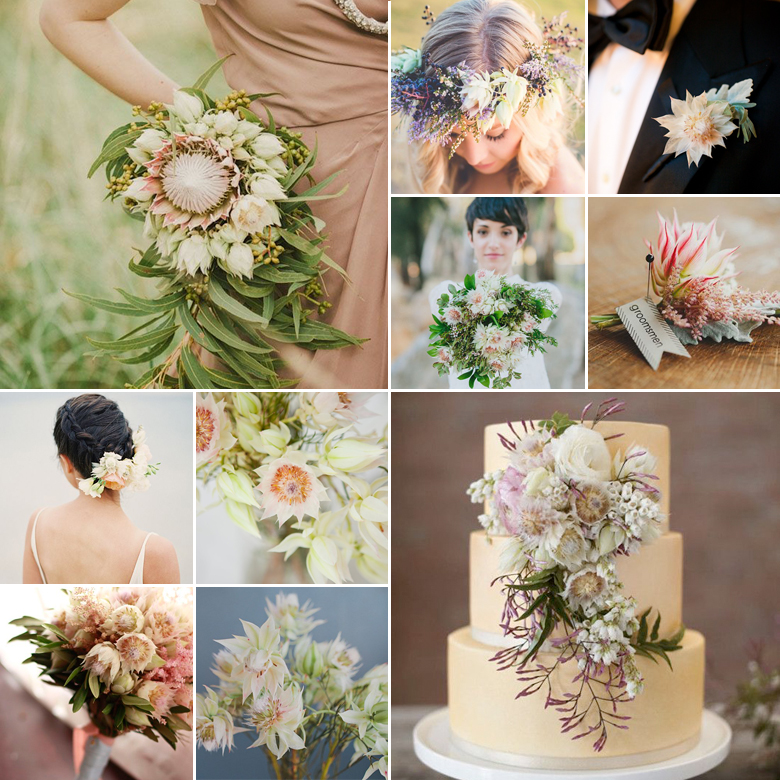 While many believe that it's the soft colours of the flower that gives it its unique name, the story of the blushing bride runs much deeper – and we think it's pretty romantic!
According to history and ancient lore, the French Huguenots farmers would tuck a blushing bride into the buttonhole of their jacket or attach it to their lapel when asking for their lady's hand in marriage; The deeper the pink colour of the Protea, the more serious the intentions of the suitor. The flower therefore became synonymous with the suitor and it made his intentions clear to all who met him – much to the embarrassment of his bride to be. Too sweet!
Native to the southern hemisphere, the blushing bride's petals can be either white or pinkish white and surround a beautifully blush centre. We absolutely adore the stunning contrast between the sharp papery petals and the delicate hue of the flower plus feathery core.
While they work beautifully with closed buds of roses and peonies, blushing brides are most striking when used on their own – tied together in one splendid bunch. Bear in mind however that these flowers are only available in winter months, so it's best to plan your wedding around it if you've lost your heart to the blushing bride.
Original images and their credits available on Pinterest