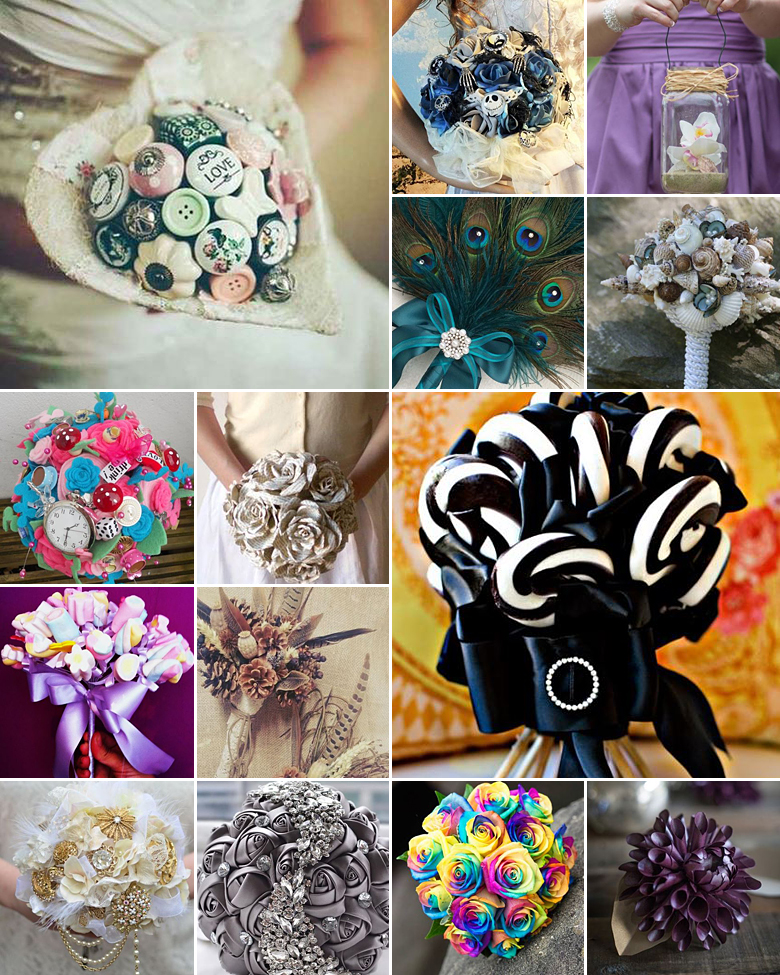 Flowers aren't for everyone! Whether you're allergic to these pretties or simply want something a little more unusual, you've come to the right place. Nowadays there are so many wonderful twists you can put on the traditional bouquet, that you certainly won't have to walk down the aisle empty handed.
Satisfy your sweet tooth with a candy bouquet made out of lollipops and marshmallow skewers – quite a treat for the girl who catches it!
Create a bouquet out of a variety of brooches – from vintage lovelies to modern beaded brooches.
Make flowers out of paper or sheets of music, and bundle them together in a pretty bouquet.
If you're good with beads, why not make beaded flowers with wire and carry a bunch down the aisle?
Forget bouquets altogether, and carry a pretty lantern or purse with you to the altar.
Fabric flowers have taken the world by storm, and can be crafted out of a variety of textured materials.
For a more vintage feel, gather together a bunch of feathers, whether it be ostrich or peacock feathers.
If you have a serious bow fetish, use ribbons to create a bouquet of little bows – too sweet and feminine!
Original images and their credits available on Pinterest