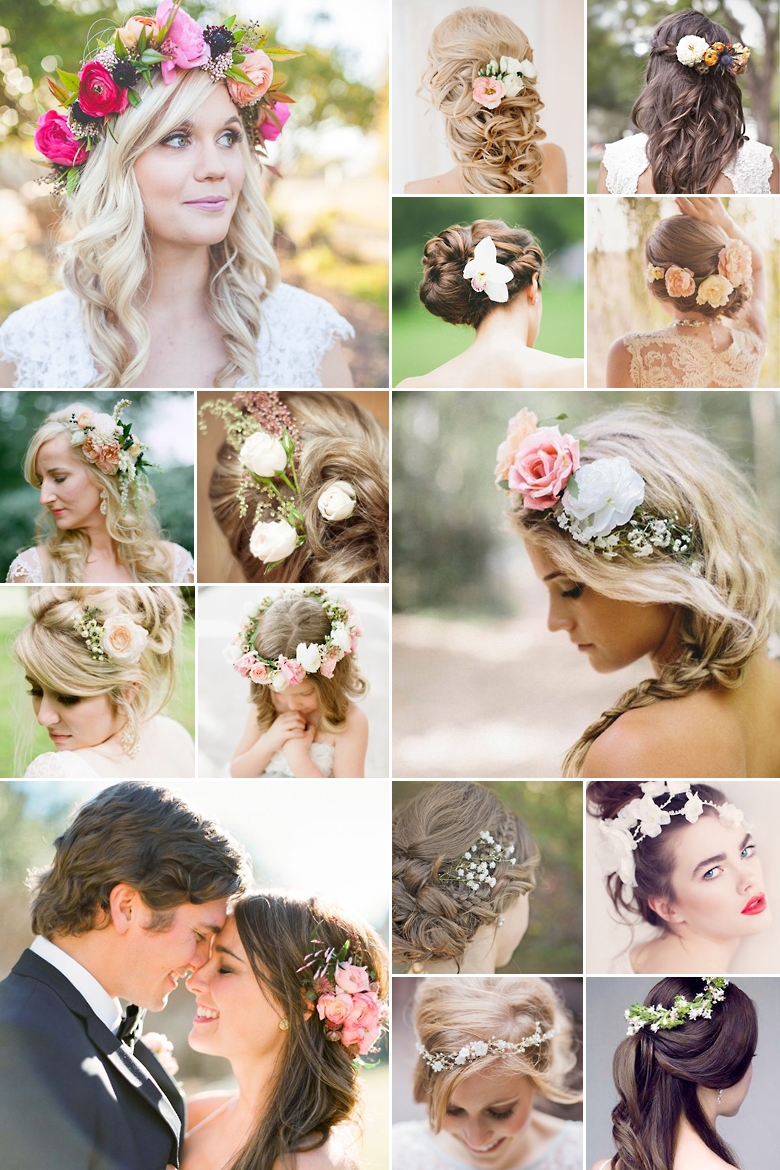 So you wish you were a punk rocker/princess/pixie with flowers in your hair? Well then look no further than this post. There are multiple ways to wear flowers in your hair – from a single bold blossom tucked behind the ear to a delicate cluster of flowers pinned to your up-do, or a floral plait cascading down your shoulder.
A big trend that's returned to the bridal big screen however is floral halos. While we still love a romantic wreath of delicately woven baby's breath or wax flowers, there's something rather enchanting and ethereal about a striking floral crown compiled of bolder blossoms like roses, chrysanthemums and carnations.
When choosing the flowers for your hairpiece, stick to pretties that are in season as their odds of surviving a day outside their vase is somewhat greater. Furthermore, opt for resilient blossoms that won't be scrunched up by a hug-lovin' relative.
Here are more tips for keeping your flowers as pretty and fresh as you are:
Apply hairspray before pinning the flowers to your hair as these chemical products can make the flowers wilt.
Should you decide to make your own floral clip/style, be sure to leave a long enough stem to secure it to the pin/hair.
Dip the flower stems in wax if you're scared that the cut section might ooze plant sap.
Leave the flowers in water until the last possible minute or, if it's a hot day, place it in the fridge.
Ask your florist and make-up artist to give you direction as to which flowers are most suitable for your specific facial shape.
Original images and their credits available on Pinterest