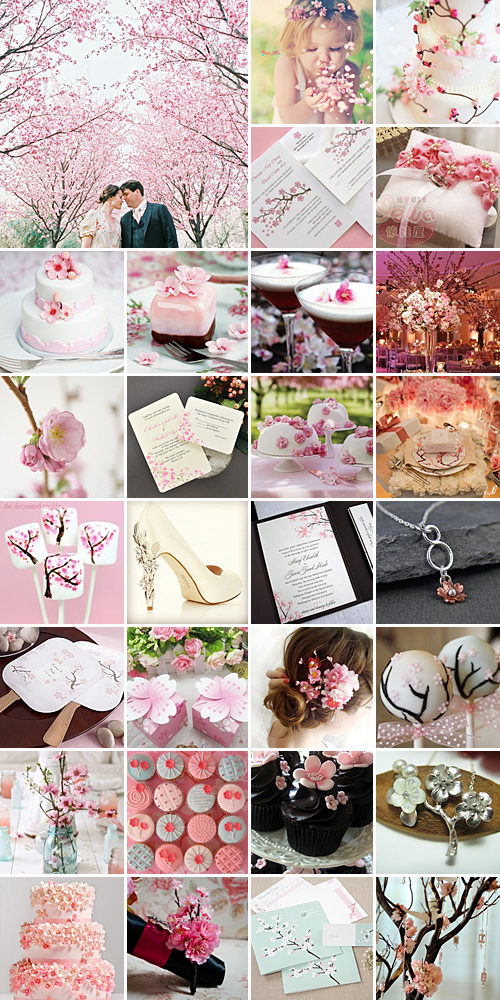 Even though the ornamental Asian cherry blossom tree doesn't bear sweet and delicious cherries, it's still hard to resist the alluring charm of the lovely cherry blossom. Generally associated with Japanese art, décor and festivals, the cherry blossom has quite an oriental character to it and automatically evokes a sense of joyous calm in your heart – exactly the type of ambience you want for your wedding day!
The key to pulling off a cherry blossom theme with grace, is to stay true to the dainty and delicate nature of the cherry blossom. If floral opulence isn't your cup of tea, you can build on the small cherry blossom elements by simply playing around with the signature colours of the flower – light pink, white and bark brown.
While the idea is to use real cherry blossoms in your arrangements and bouquets, these pretty blossoms aren't always easy to come by. Alternative options include using paper or fabric imitations and tying it to ordinary fruit tree branches, or cheating the system by mixing cherry blossoms with other fruit blossoms of similar colour (especially in terms of confetti).
Incorporate the lovely cherry blossom motive into your wedding dress design or opt for dainty pink and brown jewellery inspired by the colours of the flower.
Tie all your stationery elements together by using the cherry blossom motive on everything from your invitations to place cards.
If you're quite the artsy type, make your very own wall hangings and table cloths. Simply paint the dainty floral motive on white fabric and turn your reception venue into a Japanese garden.
Create a blossoming hairstyle with delicate pink flower pins or little pink flowers. This is especially perfect if you're a brunette as the pink-brown combination stays true to the signature colours of the cherry blossom.
Ask your cake designer to create fondant or marzipan cherry blossoms, and use them to decorate everything from the wedding cake to macaroons, cupcakes and cake pops.
String strands of paper cherry blossoms across the venue ceiling or through the tree branches outside, to create the illusion of picnicking under a cherry blossom tree.
For more Cherry Blossom Wedding Ideas, the original photos above and their credits, make sure to check out our Cherry Blossom Weddings Pinterest Board!