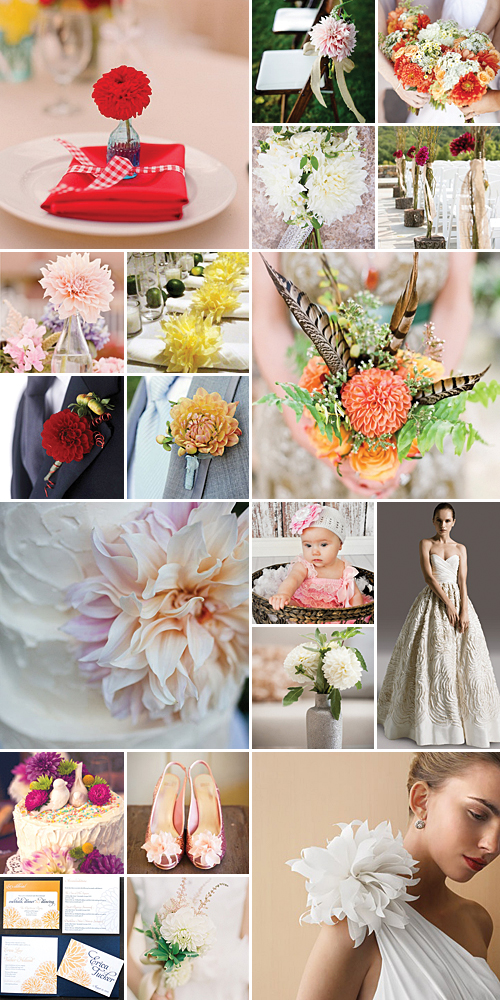 With winter fast approaching, we're somewhat obsessed with anything colourful and happy, and might we say the dahlia fits this criteria perfectly! While this stunning flower is an easy bloomer, it's generally synonymous with autumn and early winter. Because of its large and opulent shape, the lovely dahlia can easily hold the floor on its own – two or three flowers in a vase, and you've got yourself a striking little arrangement!
From soft and delicate blush pinks and luscious dramatic reds, to two-toned dahlias with intrinsically patterned petals – thanks to the vast number of colours available, the dahlia pretty much complements any colour scheme and wedding theme under the sun. Over and above the abundance of colours however, the dahlia comes in a wide array species, each with its own unique shape, size, stem height and petal arrangement; so in essence, this dazzling blossom lends itself to all sizes and types of wedding bouquets.
Unbeknownst to most, the Dahlia has a rich historical and symbolic background. During Victorian times, the dahlia was given to express sentiments of dignity and elegance and was considered a symbol of a commitment and an ever-lasting bond. The various shapes and colours were also used to express one's emotions, so best make sure your bouquet is all happiness and no gloom.
From a more technical and factual perspective, "dahlia" is believed to be derived from the Swedish word "dal", meaning "valley". Even though it isn't the true translation, the lovely plant is often referred to as the "valley flower" which truly summarises its quintessential whimsical nature.
For more Dahlia Wedding Ideas, the original photos above and their credits, make sure to check out our Dahlias Pinterest Board!