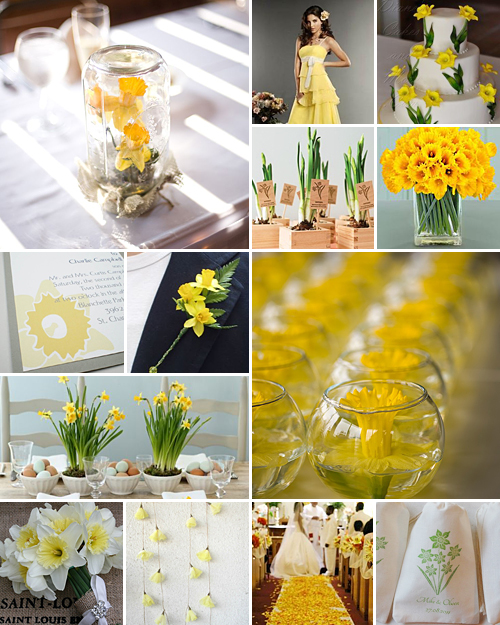 With its vibrant colour and characteristically charming teacup shape, it's no wonder that the daffodil has climbed so deep into the hearts of brides, planners and florists the world around. The simple lines of the flower and bold colour contrast between the yellow blossom and the strong green stem are just some of the daffodil's properties that make it such a magnificently striking flower.
These days florists have an exceptional creative flair with flowers, especially when it comes to the daffodil. Over the past couple of seasons we've seen everything from exposed bulbs sitting in glass vases to upside down hanging daffodil arrangements, essentially putting yellow firmly on the colour chart for 2014.
Daffodils are symbolically associated with rebirth and new beginnings, encapsulating all that is happy, new, fresh and vibrant. According to olden day folklore, the blossoming of the daffodil signifies that winter is officially over, which is why the flower is often considered the embodiment of spring.
Most countries and cultures cherish this golden flower as a lucky charm, said to bring prosperity in the future – if that's not enough reason to include the daffodil in your wedding day, the we don't know what is! In fact, the Welsh believe that the person to spot the first daffodil of the new season will be blessed with 12 months of good fortune, whereas the Chinese connect the same luck to a house where a daffodil blossoms over New Year's.
While the daffodil is certainly bold enough to stand on its own, some cultures believe that a single daffodil is a sign of misfortune whereas a big bunch of the yellow pretties signify nothing but joy and happiness.
Original images and their credits available on Pinterest