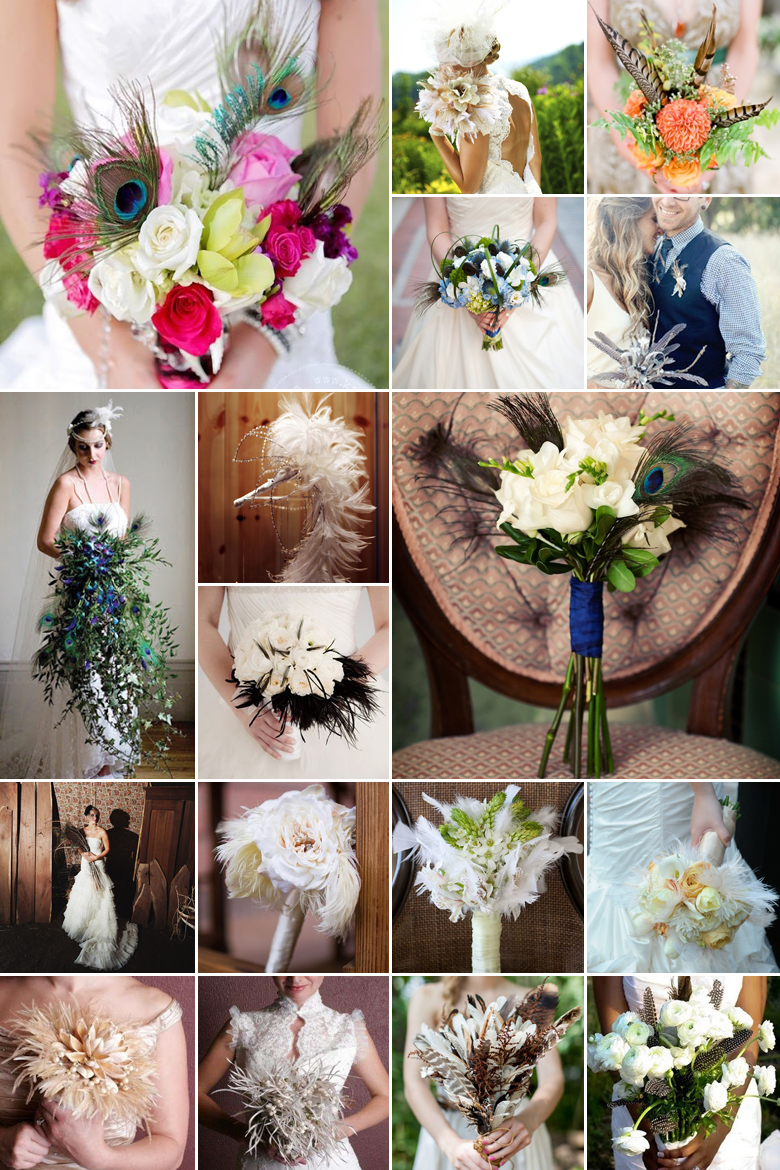 As the saying goes, birds of a feather always look drop dead gorgeous! Feathered bouquets are the ideal complement or alternative to fresh flowers and, depending on how they're arranged and styled, can suit just about any style of wedding – from 1920s elegance and burlesque glam to contemporary chic.
For starters, the variety of shapes, sizes and colours out there in nature is simply astounding, giving you almost as much choice as if you were to opt for flowers. This essentially means that you can choose your feathers to match the colour scheme of the wedding or to complement your own natural skin tone and make-up. These days craft and stationery shops also offer a selection of dyed feathers in case you can't find just the right colour you're looking for.
Then again, we're all too smitten with the idea of combining feathers and fresh flowers, rather than having to choose one of the other. For instance, consider long strings of cascading feathers toppling from your floral bouquet or a tight bunch of flowers surrounded by a halo of soft down. For a more rustic look, combine feathers with scabiosa, pine cones or foliage, or incorporate elements like lace and burlap into the bouquet.
To get the most oooh-factor out of your feather bouquet, consider complementing it with feathered accessories – for instance jewellery pieces like dramatic dangling earrings or even a glamorous feathered hair fascinator. What's more, the feather theme can be drawn through into other areas of your wedding like the décor elements as well as stationery design and other floral arrangements, to create a fully rounded look and feel.
Original images and their credits available on Pinterest