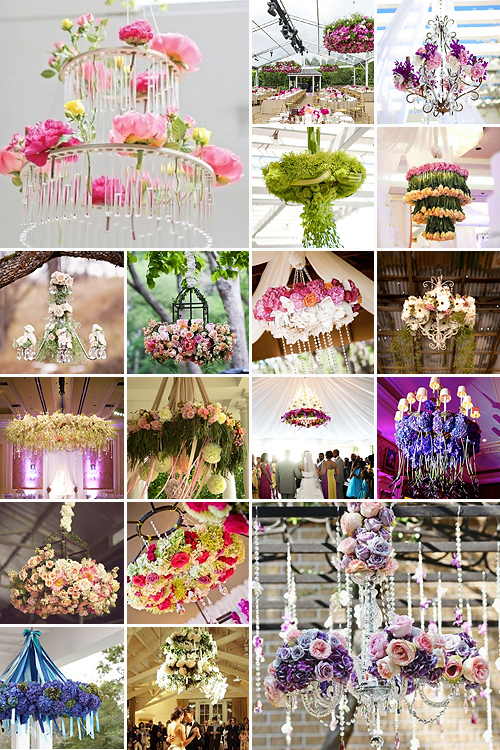 Flowers might grow from the ground, but there are few things prettier than a flower coiling down from the heavens. The floral chandelier is a brand new and exciting trend that we're yet to see take off in the South African market. Hanging flower arrangements however, have been a much talked about topic lately and we think these lovelies fall right into that category.
It's important to note that floral chandeliers are one of those elements that need to be treated with care and approached with a bucket load of finesse to keep it from looking cheap and kitsch. When done with the right amount of style and flair, these floating floral creations will automatically add springtime vibrancy to the occasion like no ordinary chandelier can.
So where to start? Well, each flower chandelier is different and made to match your unique theme. The key is to keep it simple and stick to soft and complementary colours so that the flower creation becomes part of the bigger picture rather than stealing all the shine.
Simply adorn an existing crystal or wrought iron chandelier with a magnitude of flesh picks.
Suspend long stemmed flowers, hanging at various different heights, from a metal frame work.
We love the idea of hanging a floral chandelier over a table centre piece! This adds a whole new dimension to the traditional bouquet, leading the eye up, up and away.
Hang the flower chandelier over the wedding cake, and be sure to use the same type of flower as part of the cake decoration. This will create a stunning multi-tiered focal piece!
Have your very own floral chandelier cake designed – a hanging creation made with layers of flowers and cake!
Glitter bombs are a big show stopper, so hang your floral chandelier over the dance floor with a glitter bomb hidden between the blooms. When it pops, it will appear as if the entire flower arrangement has popped its petals!
For the more floral chandelier ideas plus the original photos and their credits for the images above, make sure to check out our Floral Chandeliers Pinterest Board!