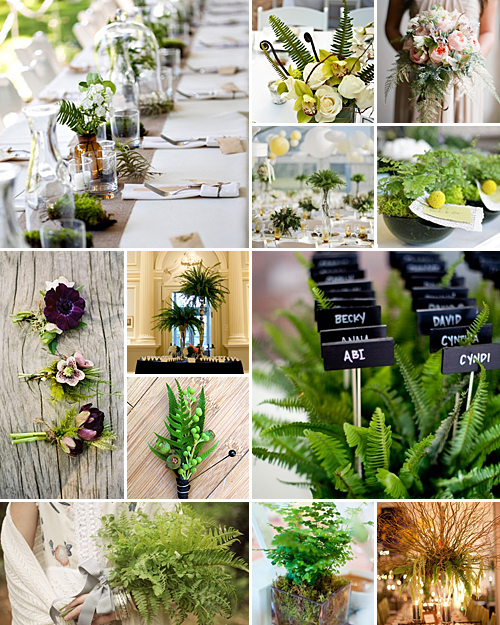 Ferns used to be nothing more than a humble bouquet filler, but with "green", "natural" and "organic" rising to the occasion as the buzz words of the decade, ferns once again earn our official heart stamp. Nowadays, florists are using ferns in more innovative ways than ever before, and we've even seen the odd bride carrying a fern bouquet down the aisle!
Part of the fern's charm lies in the long slender shape of the leaf which makes it ideal for wrapping and weaving, for instance wrap a fern leaf around your wrist or wear one in your hair like a pixie headband. It's also ideal for cascading bridal bouquets and can be woven around wire frames to create enchanting green décor elements.
Other lush green ideas include:
Use numbered potted ferns as table plan – simply write each guest's name on a planter stick and poke it into the soil of the relevant fern. Alternatively give each guest a mini potted fern as guest favour in the spirit of sustainability.
We love décor pieces that can be reused in your new home! So instead of splurging on extravagant floral arrangements, replace a couple with potted ferns or surprise hubby-to-be with a "love fern" which he can nurture for years to come.
Hanging ferns add an almost forest-like whimsy to the occasion and can be suspended at all different heights – conveniently out of your guests' way.
For simple yet striking and organic table decorations, lay a soft bed of fern leaves down the middle of the table and place candles in between.
Use shredded fern leaves as confetti and pin a fresh leaf to each groom's man's lapel as boutonniere.
Incorporate the printed fern design into your stationery elements or invest in a fern ink stamp to brand your napkins and invitations.
Original images and their credits available on Pinterest