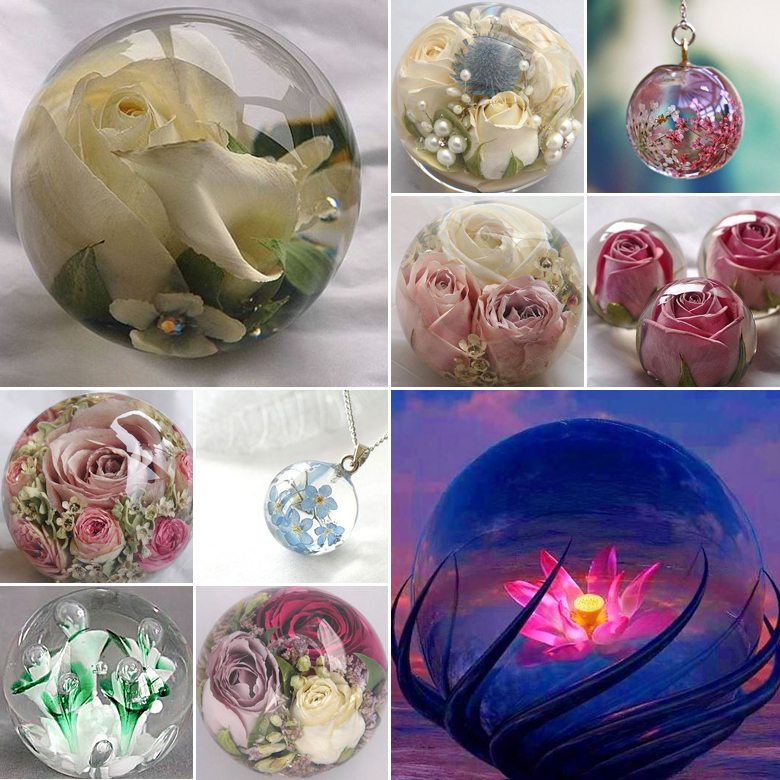 Simply alluring – that's how one could describe these whimsical creations. The flower crystal ball emerged from the need to preserve flowers in a fresh and fabulous way. What we love about this trend is the fact that you could actually preserve some of your wedding day flowers in a stylish way, and display it in and around your new home for many years to come.
These stunning flower balls are generally created using a type of resin. While it can be expensive to make, you won't be sorry in the long run! Another alternative is to have your flowers embedded in a small crystal ball, just big enough to create a striking necklace. This is also a wonderful gift idea for your mother or bridesmaids.
If your budget allows it, consider having some of your flowers embedded in resin for table decorations. Then again – while it's not exactly a crystal ball, we also love the idea of glass bauble vases, filled with a mini array of flowers. This is an excellent way to draw the crystal ball theme through without having to create a hundred resin balls to go on your guest tables.
Take a glimpse into the future, and imagine the possibilities of flower crystal balls!
Original images and their credits available on Pinterest