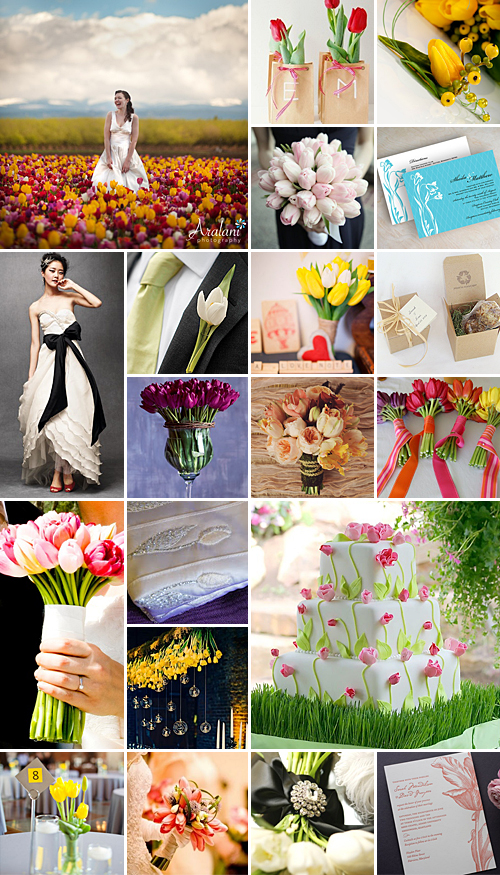 This season we're absolutely smitten with big chunky flowers – hydrangeas, lilies, big open roses and of course the tulip! These bright and beautiful blossoms are available in a wide spectrum of colours which makes them the perfect any occasion flower. Tulips are generally quite a pricey, but because they make such a statement you can easily get away with using only a small number.
Spoil each guest with a tulip bulb to plant in their garden – a sustainable guest favour that will remind them of your wedding day for months after.
Wear a single tulip or a whimsical little tulip crown in your hair. If you have long luscious locks, consider braiding it and decorating it with a cascade of colourful tulips.
Decorate the wedding cake with fresh tulips or have your florist make dainty little chocolate or fondant blossoms.
Assign a different colour or shade of tulip to each of the guest tables and attach each guest's names of the relevant colour flower.
Because of their long stems, tulips are easily twisted or woven together. Use wire shapes as your base and create tulip hearts, crosses and any shape that fits your theme.
Arrange a bunch of freshly picked tulips in a glass vase (crisp and contemporary) or wooden pail (for something a little more rustic).
Instead of paper confetti or petals, fill glass vases with tulip heads. Each guest can then take a head, strip the petals and scatter it over you as you leave the ceremony venue.
To make a real statement either carry a big bunch of tulips or one or two long stemmed tulips. Alternatively mix it up with other blooms of the same colour.
Hanging floral arrangements are very much in fashion, and with their long stems and heavy heads, tulips are the ideal flower for a floating creation.
For more wedding tulip ideas, original photos and their credits, please make sure to check out our Tulip Weddings Pinterest Board!