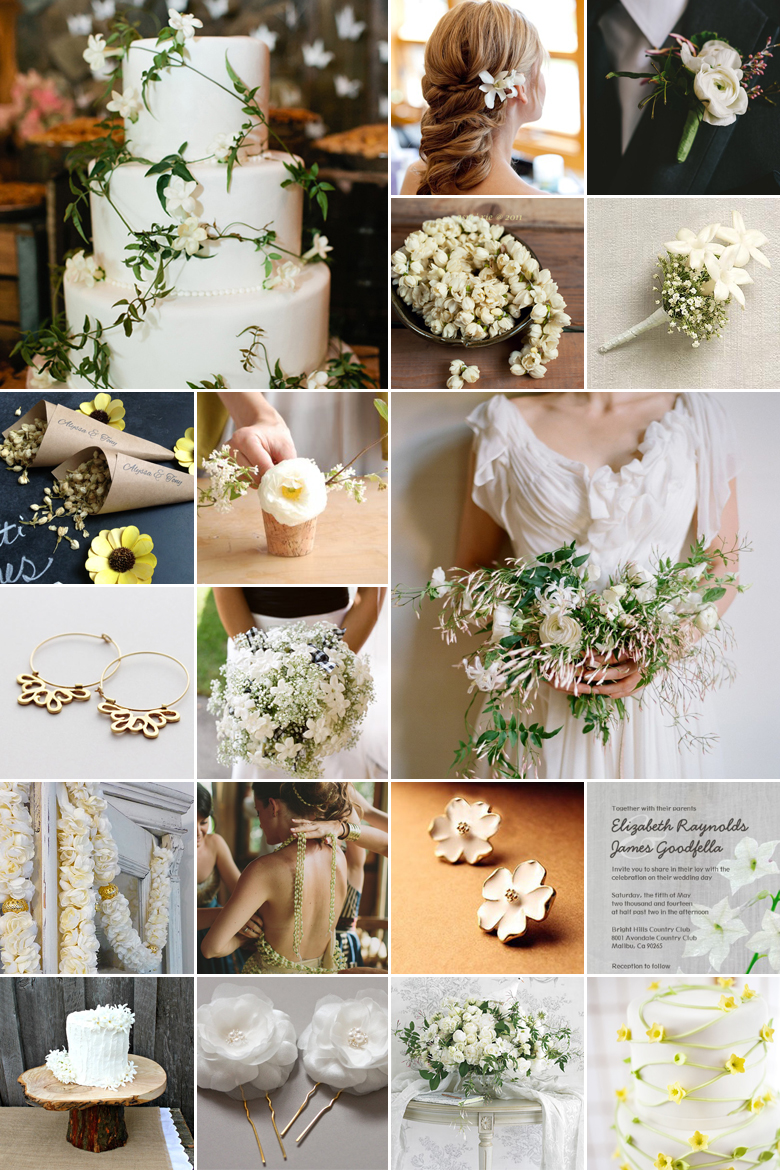 Jasmine, also known as "the queen of flowers", is one of those species that come in many varieties, shapes and sizes – from creeper vines and shrubs to tall erect plants; simple, trifoliate or pinnate. This naturally opens the door to a world of floral design possibilities, giving us a glimpse into why jasmine is such a popular wedding flower.
While there have been instances where red jasmine has been recorded by botanists, the flower is typically known to be either white or yellow. The name jasmine is derived from the Persian word "yasmin" meaning "fragrant flower", and is also often used as a girl's name which translates into "God's gift".
Possibly due to its alluring fragrance, the flower is symbolic of attachment and sensuality, as well as amiability and modesty. Yellow jasmine on the other hand, is synonymous with grace and elegance. In the Hindu religion, jasmine is considered a symbol of divine hope while Balinese people are known for planting this fragrant flower in their temples.
Asian cultures have been sipping jasmine tea on a daily basis for many centuries, and it is believed that it can help fend of diseases like cancer and diabetes. What's more, woman of oriental origin can also be seen wearing jasmine in their hair, mainly because of its enchanting fragrance, but also because legend has it that the flower will bring them spiritual love, wealth and prophetic dreams.
What we especially love about jasmine, is the way in which its noticeable fragrance plays with the senses, as this instantly helps create the illusion of more flowers – ideal if you're on a tight budget. Some jasmine species also bear fruit, which are black in colour when ripe, adding a whole new rustic and organic dimension to your floral arrangements.
Original images and their credits available on Pinterest