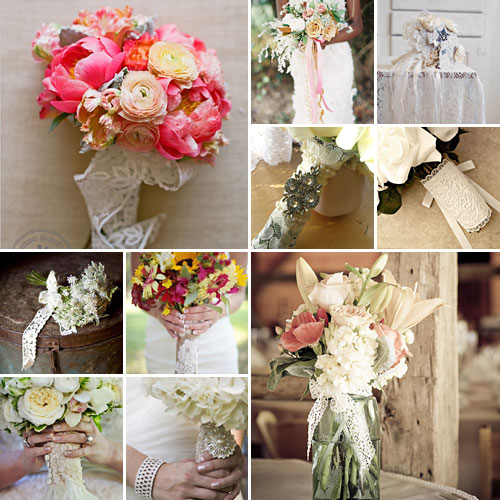 When it comes to all things feminine and lovely, lace and flowers go together like strawberries and cream, Snow White and the Seven Dwarfs, and hot chocolate and rainy days – we could go on, but you get the idea. Lace bouquets are the ideal addition to a romantic or vintage themed wedding celebration, and truly embody the soft essence of true love.
The first option would be to wrap the base of your bouquet in lace ribbon or a stretch of simple woven fabric. In addition, you can attach long dangling lace ribbons to the wrapping to create a cascade of lacy loveliness. Should you wish to add a touch of glitz, the lace can be complemented by decorative vintage bits and bobs like cameo brooches, crystals, a mini vintage photo frame and the likes. Flowers that blend well with lace include roses, peonies, carnations, baby's breath, lilies and pretty much any flower that strikes you as having an olden day character.
The second option would be to opt for a full-on lace bouquet – that's to say, an arrangement made entirely out of lace flowers, rosettes and dainty off-cuts. Opt for various shades of cream and dusty pink to create a lavish display of vintage splendour. This can be further complemented with a similarly soft and feminine lace flower in the hair or a lacy hair band.
If a traditional bouquet isn't exactly your cup of tea, consider a striking lace wrist corsage. Here you have the option of once again, using lace flowers for the actual arrangement or attaching dangling lace ribbons to the wrist. We also adore the idea of a forearm corsage where the elbow to wrist is covered in lace and the corsage attached to it.
Original images and their credits available in Pinterest