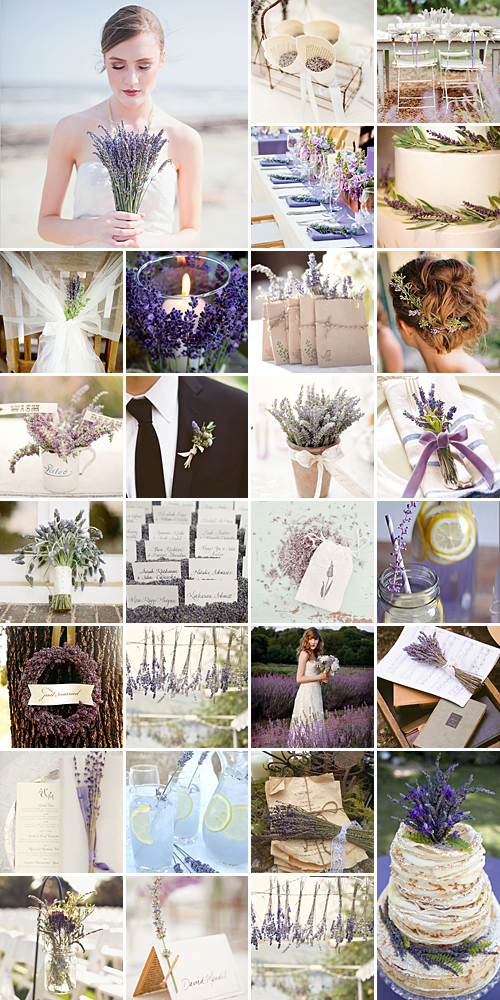 Enchanting, elegant, simple, sophisticated and feminine without being too feminine – these are just a few ways to describe the precious floral gem that is lavender. The scent, the colour and even the taste is enough to instantly create a French country ambience and set the scene for a morning, afternoon or night to remember.
When it comes to floral arrangements, you have the option of either combining the lavender with other purple pretties (for a full-on purple display with depth and dimension) or complementing the lovely lavender with soft touches of white, pink and blue. However there are few things as striking as a bunch of freshly picked lavender – play around with various containers like enamel mugs, wooden pails, glassware and what-not, to create the effect you're after. Alternatively use lavender saplings or plants to decorate the tables and encourage guests to pocket them after the wedding is over.
But wait! There's more!
Purchase a scented lavender room spray to further accentuate the fragrance of the lavender blossoms in the room.
Lavender is edible, so flavour your wedding cake and treats with this sweet flower or mix up a lavender punch or tea for the pre-drinks.
Thanks to the long stems, lavender can easily be woven or tied. Use this to your advantage and create lavender garlands, wreaths and hearts. To make matters simpler, use a wire shape as your framework.
Strip the tiny petals off the stem and use it as confetti. For a more chunky effect, cut the flower heads into portions.
Tie two or three lavender stems together with a little bow and pin it to the gents' lapels as boutonnieres.
If you're nifty with needle and thread, make mini lavender fragrance cushions as guest favours for your female guests. Alternatively make them in the shape of a heart and suspend them from the chandelier as added table decoration.
Incorporate the lavender design into your wedding stationery, linens and cake design. As a side note – try to keep all elements and secondary colours light to complement the dainty sophisticated nature of the flower.
For more Lavendar Wedding ideas, the original photos included above and their credits, make sure to check out our Lavendar Pinterest Board!