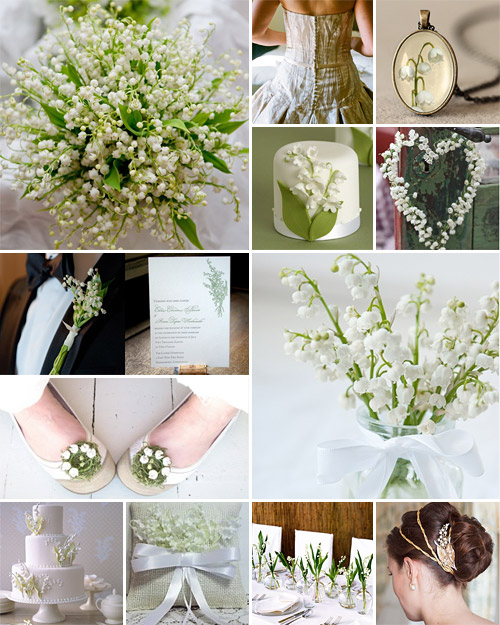 As mentioned before, the emphasis for 2014 is on romance and opulence. And what embraces these two prominent themes better than the delicate and fragrant lily of the valley? While certainly not the most affordable flower on the market, the lily of the valley is certainly worth its weight in gold, with its dainty character mesmerising its audience in an instant.
It's been said that, back in May 1561, Charles IX king of France was given a lily of the valley and, charmed by the gesture, decided to surprise each of the ladies of his court with one of these special flowers. Today this tradition is often relived at weddings and celebrations where each female guest is given a lily to wear on their lapel.
Having had its moment in the spotlight in Kate Middleton's stunning bridal bouquet, it's no surprise that the lily of the valley is at once again at the top of the trend list for 2014. Also known as the May lily, this unique and dainty flower has rich symbolic meaning, however the most wedding-appropriate being, "return to happiness". Other meanings include chastity, purity, happiness, luck and humility.
The flower's bell-like quality makes it a mesmerising addition to any bouquet or floral arrangement, and three or four is often enough to make a statement. What is truly noticeable about this simple flower however is its fragrant scent, which naturally infuses the room and has been the inspiration behind many top selling perfumes like Dior and Coty.
While the lily is the perfect companion to just about any flower and colour scheme, you can draw inspiration from the plant's lush green-white colour combination and extend it into other elements of your big day.
Original images and their credits available on Pinterest