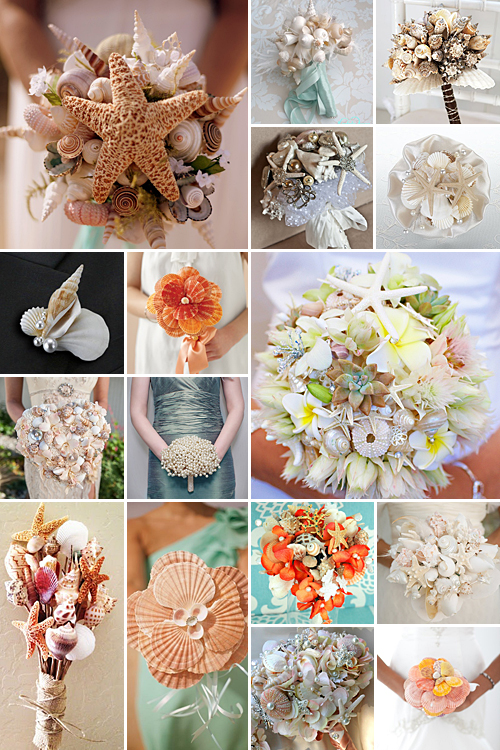 There are two things that most of us used to do when we were twinkle eyed tots – dream of our wedding day and collect sea shells on the sea shore. So it really is fitting to have a little part of your childhood featured on your wedding day – or even better, as part of your bouquet!
With such a vast variety of colours and shapes produced by Mother Nature, shells can really be considered flowers from the ocean. Now we know what you're thinking – sea shells can be kind of kitschy, right? However, with your sense of finesse and our inspiration combined, it's simply a matter of combining shells that work (and not building miniature shell sculptures like the dusty figurines in your gran's display cabinet). Stick to simple combinations of shells and, when in doubt, opt for lighter coloured shells of the same "specie" rather than a jumble of odds and ends.
Once your bouquet is sorted, the shell flower theme can be extended into all areas of the wedding day – for instance, why not complete hubby's dashing ensemble with a simple shell boutonniere? Then again, instead of table arrangements, opt for shell bouquets or even simple glass bowls filled with shells, and topped and dotted with tea light candles.
Aside from sea shells, feel free to include other ocean treasures such as pearls, dried coral, starfish and driftwood in your bouquets. And why stick to ocean pretties when you can opt for a "surf and turf" bouquet? Simply incorporate a couple of your favourite blossoms and blooms, and perhaps a non-organic touch like a scrap of burlap or lace? We're also smitten with the idea of oversized shell flower "vases" and candle holders. With so many possibilities, let's just go all out and be a creative, shell we?