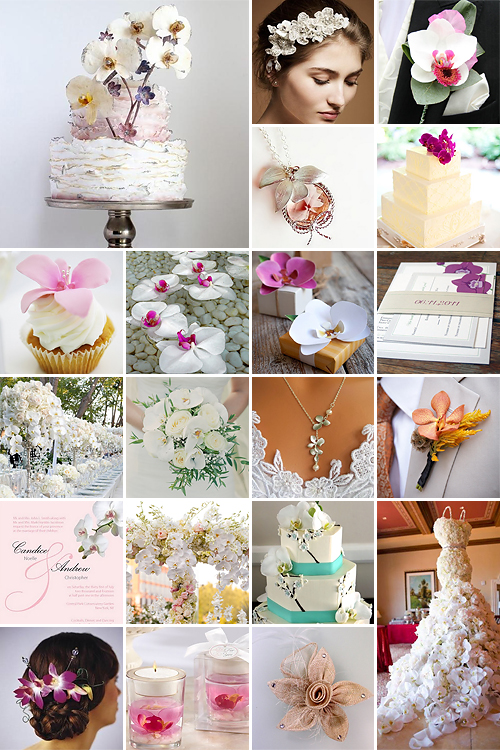 If luxury and style could be grown from the earth, it wouldn't bear fruits – it would sprout orchids. This slim and precious flower is the epitome of subtle modern elegance and can often be spotted in the foyers of five star hotels and architectural wonders.
Orchids symbolise love, beauty, wisdom and fertility, almost as if Mother Nature has planted this flower specifically for the wedding day. These days you can choose from a whopping 22 000 orchid species! In the bridal world however there are four types of orchids that will always be seen in centre pieces and hairstyles across the globe. These are:
Phalaenopsis orchids
Cymbidium orchids
Dendrobium orchids
Vanda orchids
Each of these species come in a wide spectrum of striking colours, though pink, purple, green, white and blue remain the firm favourites – classic, timeless and sophisticated.
While at first glance the orchid might seem like a very non-versatile flower, this long-stemmed gem can be used in many creative and stylish ways. By simply chopping and changing the vase or container, you can change the entire aura of the arrangement – here's what we mean:
Natural and unspoilt: Simply place the entire orchid plant on the table for a rustic and natural ambiance.
Modern chic: Place a single flower in a long slender vase and line up a number of these simple arrangements down the middle of the table.
Fairy tale romance: Because of its long stem, the orchid can easily be twisted around a chandelier. Combined with the rustic wrought iron and soft candle light, the setting is nothing short of Snow White perfect.
Organic Zen: Severe the flower head and arrange them in a flat bowl or on bed of river stones and sand.
Fresh and pure: Place the flower heads in a bowl of water along with floating candles or slices of lemon for a fresh centre piece.
His and Hers: A single orchid makes for the most precious and gentlemanly boutonniere as well as simple bridal bouquet. For an even more fairy tale ensemble, twist the long stems of the orchids together to form a floral wreath for your hair.
A gentle touch: Additions or small inclusions of an orchid on your wedding cake, as part of your bridal accessories will add that elegant touch.
For more wedding orchid inspiration, the original photos and their credits, make sure to check out our Wedding Orchids Pinterest Board!