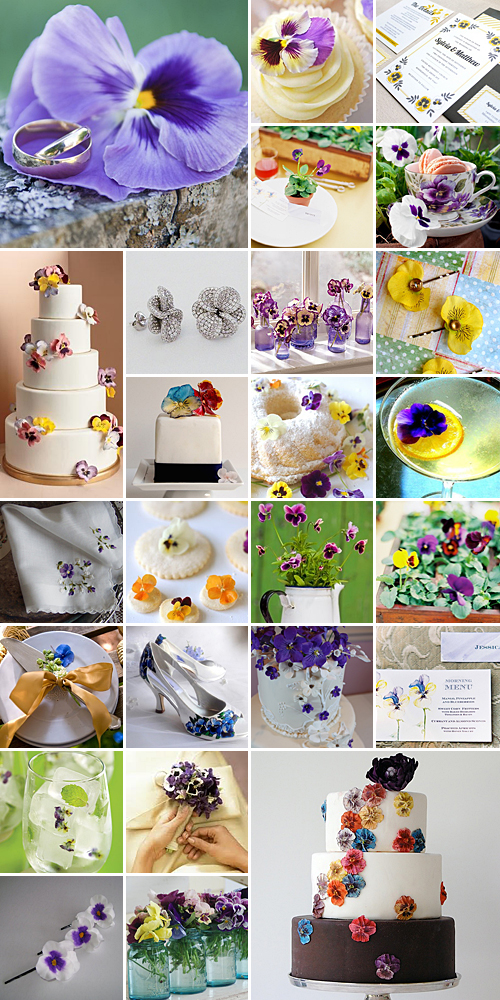 The saying "don't be a pansy" really loses all meaning once you soak up the prettiness that you're about to see – who wouldn't want to be associated with the happiness and beauty of a pansy? As an incredibly dainty and delicate flower, the pansy oozes vintage housewife charm and is generally associated with pretty flower beds and windowsill pots – ideal for a morning wedding.
"Pansy" is derived from the French word 'pensee' meaning 'thought'. In olden days this cute little flower was said to be charmed, possessing telepathic powers. According to folklore, when attending to the plucked flower, you could instantly hear your lover's thoughts – quite handy in marriage, wouldn't you say?
Aside from reading hubby-to-be's mind, here are a few other ideas for making the most of the beloved pansy:
Decorate your wedding cake with freshly picked pansies or opt for a pansy painted design – see this post on painted wedding cakes for inspiration.
Fill a cupcake stand, alternating between pansy-topped cupcakes and mini potted pansy plants, for a whimsical flower garden effect.
Collect a variety of small glass bottles and jars and arrange a few pansies in each. Group these bottles together on the guest tables for striking centre pieces.
Wear vintage pansy clip-on earrings or scout around for other charming pansy pieces.
Opt for a small pansy bouquet (fluffed up with a bit of baby's breath, if you so prefer). Note: Because of its tiny nature, pansy bouquets are best suited to petite brides in simple dresses.
Remember, pansies are fairly delicate flowers and wilt quickly if not tended to correctly. Hence it's best to use potted pansies as far as possible – plant them in vintage tea cups, enamel containers, wooden pails, vintage cake tins and any interesting container you can lay your hands on. What's more, potted pansies make excellent guest favours and, when grouped on the table, can double as centre pieces.
For more Pansy Wedding Ideas, the original images above and their credits, make sure to check out this Pinterest Board!