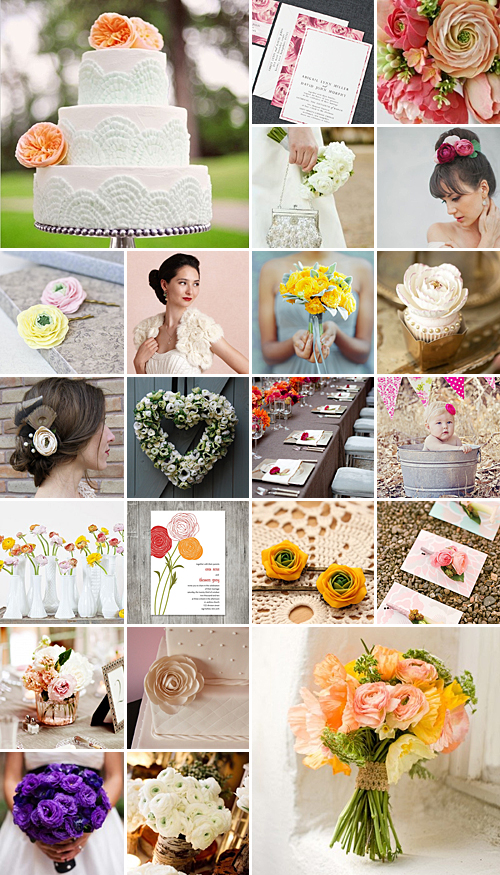 The floral meaning of ranunculus is "I am dazzled by your charms" which is truly fitting for the wedding day, we think! Forming part of the buttercup family, this pretty blossom is almost reminiscent of anemones and the darling peony – not surprising since they're also related somewhere along the blood line, or shall we say root system. With its ruffly petals and feminine appeal, this radiant flower is an excellent vase filler and really at its loveliest when freshly picked and loosely arranged in a simple container.
To complement their soft vintage character, arrange the floral beauties in coloured glass jars or make a mini arrangement using vintage teacups and teapots. We also love the idea of a single ranunculus propped up in a recycled glass bottle, with a number of jars and bottles grouped in the centre of each table.
Ranunculus is available in an array of vibrant summery colours such as red, orange and yellow as well as softer vintage colours like dusty pinks, cream and purple, to name but a few. Whether you arrange them in a bunch or carry a single flower down the aisle, ranunculi truly make for a striking floral addition to any wedding day. What's more, a single ranunculus is really all you need for the most perfect boutonniere and any bridesmaids will be all too happy to flaunt a ranunculus wrist corsage.
Ranunculi can be paired with a wide range of foliage and flowers, such as daisies, roses, status and lavender, to name but a few. While the delicate nature of the flower might make you wonder whether it will survive the wedding day, in actual fact the ranunculus can last a couple of days when treated with the right amount of tenderness.
When arranged in a vase, be sure to add a drop of bleach or floral nutrients to the water to minimise bacterial growth around the stems. Alternatively, opt for fabric ranunculi – not only are the more resilient than the real thing, but because ranunculi are exceptionally easy to recreate with fabric, no one will even notice their lifelessness.
Chat to your wedding florist for more ideas and ways you can implement Ranunculus into your wedding day!
For more Ranunculus Wedding ideas, the original photos above and their credits, please make sure to check out our Ranunculus Wedding Ideas Pinterest Board!