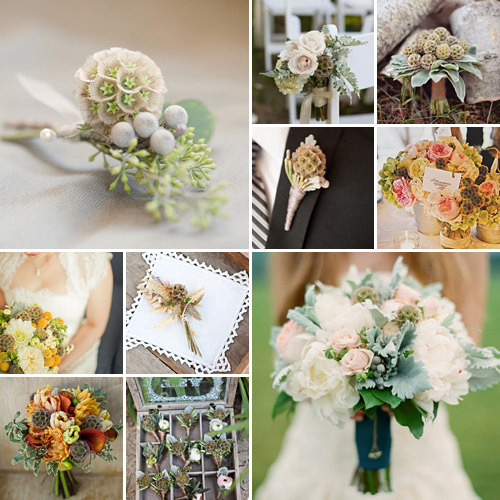 Generally known as the "pincushion flower", scabiosa is characterised by the pin-like "tentacles" sprouting from its core. Even though the name might initially sound a little foreign, you might have encountered it under one of its many other nick names – Egyptian Bride, Mourning Bride or Starflower, to name but a few.
While not the most glamorous or gorgeous flower at first glance, this simple blossom brings a raw and almost organic character to any table, lapel or floral arrangement. We especially love the way scabiosa adds texture and interest to a bouquet, acting as the ideal bouquet filler. Aside from the flower itself, the scabiosa pod has gained florists' favour over the last couple of seasons as it brings a certain rustic charm to any floral arrangement.
Available in lavender blue' lilac or creamy white, scabiosa can complement just about any colour scheme or wedding style. One of the down sides however, is the floral meaning of scabiosa, which is "unfortunate love". While it's probably not the most desired symbolism for a wedding, it does present the challenge of putting a positive spin on it – after all, what love doesn't go through unfortunate ups and downs?
What makes this flower so ideal for the wedding day is its strength and longevity, as it can last up to 10 days under appropriate flower conditions. Even though it can look rather striking on its own, scabiosa is best complemented with a variety of foliage and flowers with similar organic characteristics and texture. Prime examples include peonies, billy balls, gardenias, dahlias, cosmos and succulents.
Original images and their credits available on Pinterest