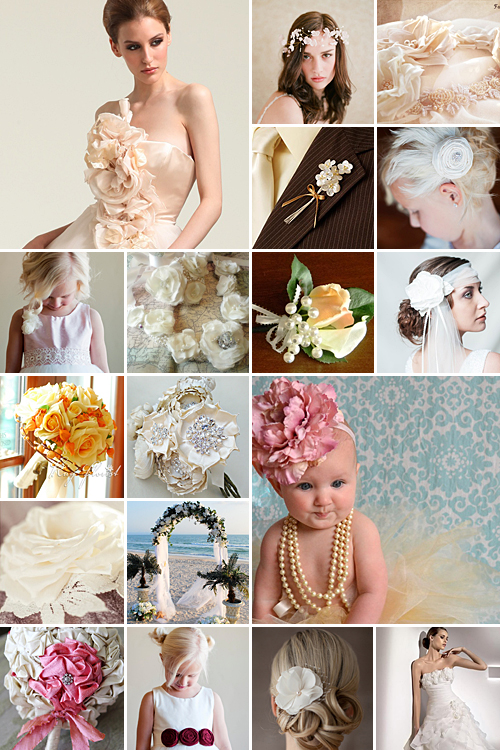 We've had paper flowers, plastic flowers and felt flowers. And now we introduce the ever popular silk flower. If ever a fabricated flower encompassed the soft and romantic nature of a real flower, the silk flower would be it.
Silk blooms can come in all shapes and sizes – if you've seen it in nature, it can be recreated with silk. The vintage nature of these blooms makes them ideal for anything from a rustic to antique chic wedding theme, especially when adorned with pearls and lace. Add a sparkling crystal or two, however, and they're fit for a glamorous and contemporary fiesta.
While your gut might tell you to always use silk on silk, there's nothing quite as stunning as the smooth fabric contrasted against a more grainy material like burlap or rough cotton. Also feel free to play around with silk on wood, metal, mirror and sand.
One of the greatest benefits of using silk flowers instead of real blooms is of course their immortality. Where Mother Nature's blossoms might wilt after an hour or two, silk flowers are ideal for wearing in the hair as they won't get squashed or potentially stain your wedding dress.
Attach wire stems to the base of each flower and create a full-on silk centre piece or bridal bouquet. You can even go as far as wrapping the stems in matching silk.
Attach a large silk flower to a pretty headband or hair clip to complete your hairstyle.
Make silk flower brooches for the bridesmaids or for your female guests as wedding favours.
Choose a more masculine colour like a rich jewel tone and make silk boutonnieres with a masculine twist.
Decorate your garter with pretty silk flowers and opt for a timeless silk wrist corsage.
Cascading flowers is a hot trend this season, so adorn your dress with a few dozen silk flowers, cascading down the front or back. We also love a dress with a single elaborately decorated shoulder.
Sew your flowers to lengths of ribbon and hang it on the walls and from the ceiling.
Instead of rose petals, have your little flower girl scatter miniature silk flowers down the aisle.
Make custom silk napkin rings with silk flower and thick silk ribbon.
For the original photos and their credits plus more Silk Flower inspiration for your wedding day, make sure to check out our Silk Flowers Pinterest Board!