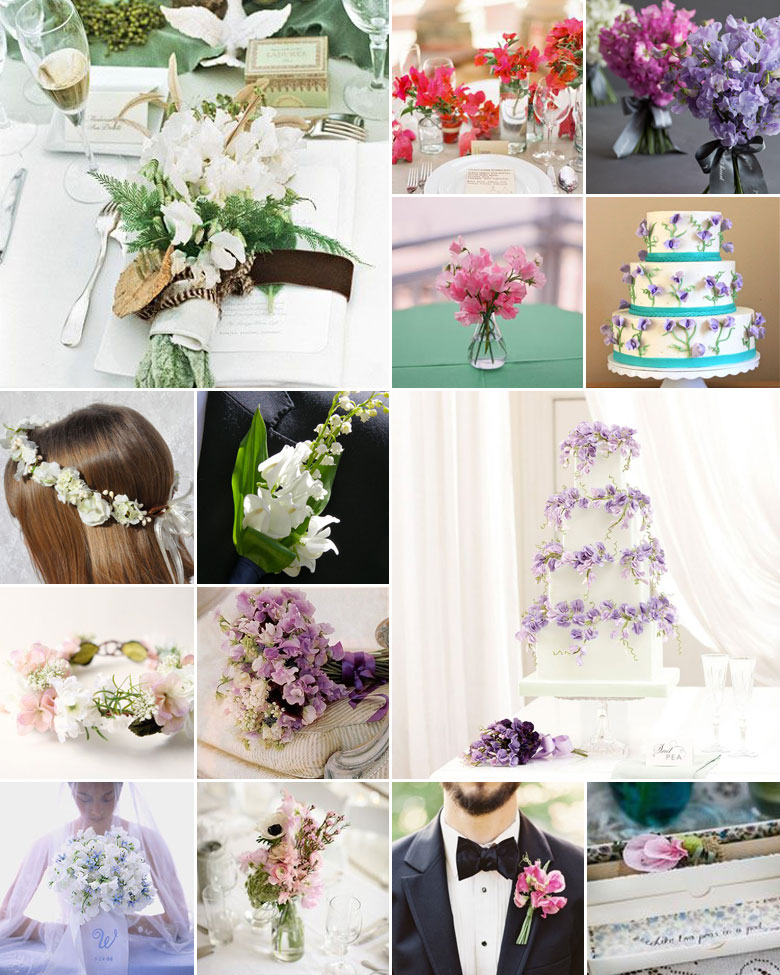 The fragrance of this simple little blossom is, in itself, enough reason to consider it as a key flower for your wedding day. While sweet peas are generally used as bouquet fillers, we just love the fun and whimsical nature of this oddly shaped blossom, and these days you'll often see a vase spilling over with nothing but vibrant sweet peas.
Also known as the "queen of annuals" in gardening circles, many flower historians believe that it was the poet Keats who first referred to the flower as the 'sweet pea'. This vibrant little blossom symbolises blissful pleasure and is often given to a departing guest to wish him or her a pleasurable trip after having a good time.
Even though it might appear dainty and delicate, the sweet pea can last up to two weeks once cut, making it the ideal no-fuss wedding flower. Aside from the freshly cut blossoms, you can also consider using the creeper plant to cover and decorate things like the wedding arch, standing chandeliers and other focal elements.
While it's generally understood that you can't really predetermine the colour of the sweet pea that you're sowing, the result is a vibrant green creeper plant covered in multi-coloured blossoms that is indeed a feast for the eye. The most well-known varieties include the pink sweet pea, known as the "Dorothy Eckford", the lavender "Lady Grisel Hamilton", the scarlet "King Edward VII" and the frilly shaped sweet pea which is better known as "Countess Spencer".
Original images and their credits available on Pinterest