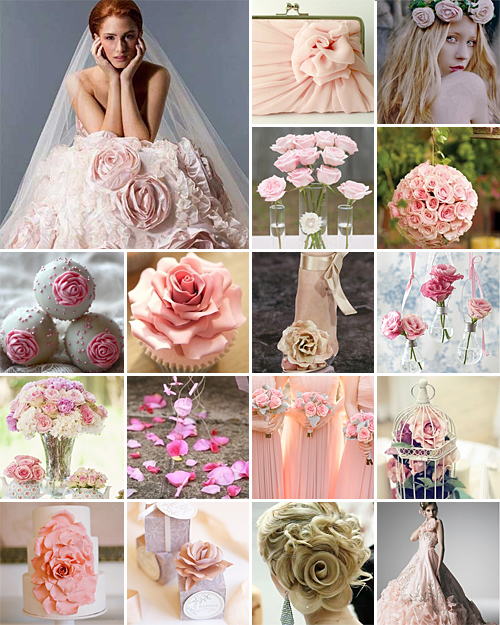 A rose by any other name is still a rose. No matter what colour, what fragrance and what size, there are few flowers as majestic and breathtaking as this timeless flower. Roses are a firm favourite in the wedding world and has been used in floral arrangement since your great grandmother can remember. However while the traditional rose bouquets will always be a hit, this season has seen quite a few brand new reinventions of the rose. Here are a few of the big rising trends:
Because of the many available colours and shades, roses are the perfect flower with which to create an ombre flower arrangement to go with your ombre wedding theme.
This season we just love rose tiered wedding cakes where the layers of cake are separated by layers of tightly packed roses. Then again, roses make for perfect cake toppers as well.
Fondant roses are not only sugary sweet on the eye but also on the palate, so surprise guests with rose-shaped cupcakes or a wedding cake decorated with a giant fondant rose in full bloom.
Rose petal confetti is one of the most popular wedding trends, but even more spectacular is glitter bombs over the dance floor – simply replace the glitter with petals.
Instead of confetti petals in cones, rather give each guest a rose from which they can strip the petals themselves.
While semi-blossomed roses will always be a favourite, roses in full bloom are the talk of the town – even better if they look freshly picked and not perfectly arranged.
Opt for a bouquet of tightly packed roses of a single colour. This small and simple bouquet is much loved by wedding planners and stylists.
Cascading roses are romantic and the epitome of fairy tale elegance. This technique can be used to decorate the wedding cake, create the bridal bouquet or brighten up the guest tables.
The long stem rose was and always will be a show stopper, whether you arrange a bunch in a big glass vase or a number of single roses in slim glass containers.
If your theme is colour scheme based, combine roses with a variety of flowers of the exact same colour to create a striking arrangement.
Instead of fresh roses, make your very own fabric roses and incorporate them into your dress design and centre pieces.
Roses are known for their antique and vintage character, so arrange them in an antique silver vase to really bring out their beauty.
For more Wedding Roses ideas, the original images above and their credits, make sure to check out this Pinterst Board!