Fondue – Fun to Do!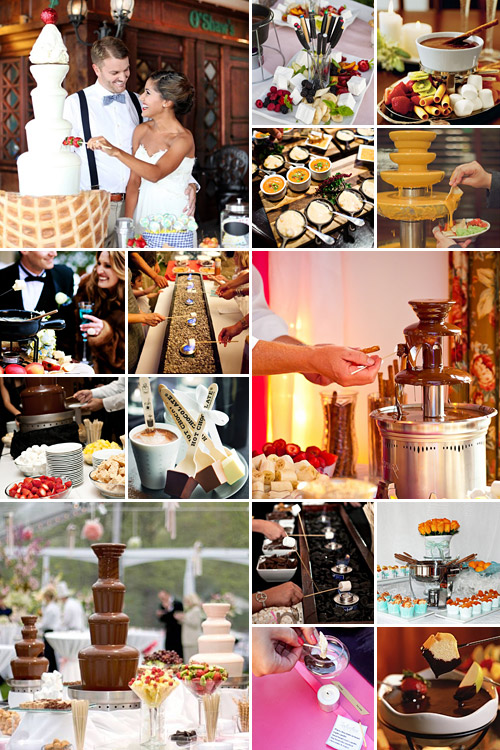 Nothing brings friends and family together like dipping small bites of food in a communal pot! Over the past couple of years the traditional fondue has been reinvented in multiple different ways – from the traditional oil frying to the more indulgent chocolate fondue.
Here are the top choices and ideas for a contemporary wedding fondue:
Broth/Oil Fondue: This style of fondue basically involves heating or cooking bite-sized savoury snacks like chunks of steak, sausage or vegetables in boiling oil or broth. Two excellent opportunities for such a wedding fondue include: 1) Hosting a fondue instead of serving traditional canapés or 2) Placing fondue pots on the guest tables as interactive starters.
Chocolate Fondue: Naturally the perfect dessert or canapé option, a chocolate fondue is all about dipping sweet nibbles in warm runny chocolate! Some of the most popular dipping treats to serve at a wedding include marshmallows, shortbread, mini biscuits, pretzels, cake bites, strawberries, kiwi and other sliced fruits. The chocolate fountain is a more contemporary take on the fondue pot and makes for quite a show-stopping wedding element, while you can also play around with various types of chocolate like white and dark.
Cheese Fondue: Dipping savoury goodies in melted cheese is definitely one of life's greatest pleasures. Swiss and Cheddar are two of the most popular cheese options for a cheese fondue, though Gruyere and Emmental are both equally exquisite choices. Bread sticks, crackers and a variety of freshly baked bread fingers are ideal for dipping, and be sure to serve it with a selection of preserves and jams to break the richness.
Original images and their credits available on Pinterest