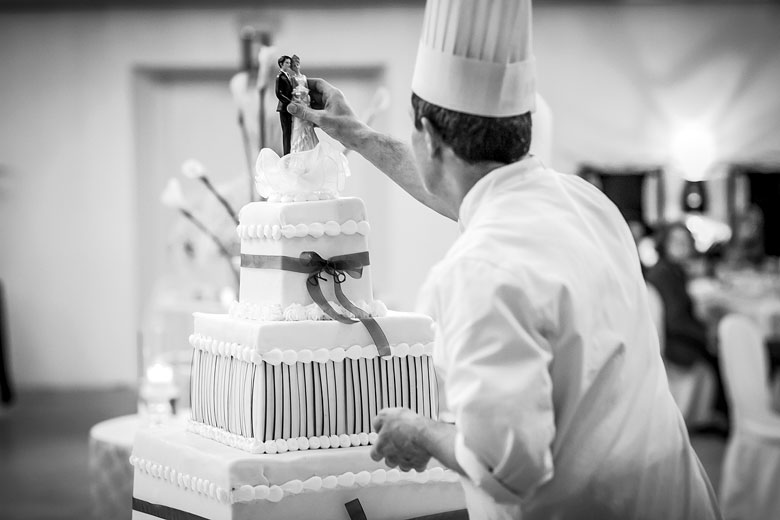 Deciding upon the food and refreshments to be served at your wedding is one of the major decisions you will have to make. It is also one of the most costly aspects of your wedding, and your catering budget may often determine the number of guests that you are able to invite. In addition, the food is one of the highlights for the wedding guests. For these reasons, it is worth making absolutely sure that both you and your caterer are in agreement and mutually cooperative. Here are some questions that you should ask your caterer (whether an external service provider or the caterer of the venue itself) before confirming his or her services:
Is it possible for my fiancé and me to sample your proposed dishes? By doing this, you will be assured that his or her eloquently described starter is not simply mushrooms on toast.
Can I supply my own drinks? Alcohol is often where the caterer makes their money and they may not allow you to bring your own. However, if they are happy to have you supply the drinks, this should work out far cheaper for you in the end.
Can I speak to previous couples that have used you as their wedding caterer? By so doing, you will likely get a first-hand account of the caterer's service and products.
What is included in your total fee? Some caterers and venues include waitrons and kitchen staff, while others only charge for the dishes and require the use of the hotel's kitchen, for example.
Does your final quote include VAT (Value Added Tax)?
What is your cancellation policy? Be sure that you understand fully and are happy to agree to these terms and conditions.
What happens if one of my guests cancels at the last moment? How far ahead do I need to cancel a place setting with you without being charged?
Do you cater for vegetarians, vegans and those with allergies and special requirements? It is of utmost importance that your Kosher and Halaal guests feel comfortable with their meal choice and that anyone with allergies be accommodated. Dietary requirements should be ascertained when the guests RSVP and the caterer needs to be informed of where these guests are sitting.
Do you have special meals for children? This, of course, only applies if you are allowing guests to bring their young ones. Usually, children over the age of about 10 years are willing and able to eat the adult food.
Are the plates, glasses, cutlery and so on included in your final fee or do I need to hire these from an external provider?
Do you make use of organic ingredients?
Are your ingredients always fresh? Where do you get them?
What is the policy on broken goods? Am I required to pay for these?
How many waitrons will be required for my wedding guests?
Do the waitrons provide Silver Service or are they only experienced in less formal weddings? Either way is acceptable, depending on the type of wedding you are having, but you need to be happy with their level of expertise and experience.
Does the wedding venue I have chosen provide you with the right kitchen equipment and facilities that you require to produce the menu I have selected?
Are you catering for any other weddings on the same day as mine? If so, how do you plan to manage both?
Do we have to tip the waitrons or is this charge included in my catering bill?
Do I have to pay a deposit? If so, what percentage?
When do I have to submit the total payment for the wedding catering?
Do not feel shy about asking these questions. Your caterer should be quote accustomed to dealing with these concerns and will likely reassure you. If not, do not feel compelled to sign for his or her services. It is imperative that you are happy with the services that you will receive on this important day.
Photo Credit: www.made-in-italy.com