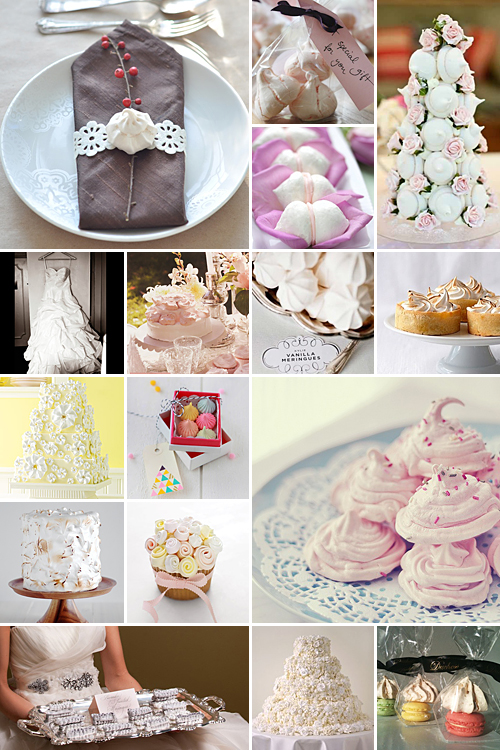 Meringues have always been somewhat synonymous with weddings, and not just from a couture perspective. These sugary delights are guaranteed to add a touch of whimsy to any event and provide the ideal sugar rush to get your guests out on the dance floor. What's more, meringues come in all sizes, flavours and colours, putting the meringue on top of any theme and colour scheme.
While meringues are generally shaped like piped twirls, modern day cake designers are known for creating the most unusually shaped eye-candy. From meringue petals, mushrooms and roses to fruity nests, hearts and raindrops – the options are virtually endless.
Here are a few lip-smacking ideas for incorporating this childhood treat into your wedding day:
Instead of a wedding cake, opt for a tower of macaroons and meringues!
Create meringue bouquets for the guest tables – simply poke a skewer into the base of each meringue or thread a number of mini meringues onto each of the sticks, and arrange them in a vase. Guests will love these edible centre pieces!
Serve lemon meringue pie or red velvet cupcakes with a fluffy meringue topping.
Make flat meringues and insert a skewer at the bottom to turn them into giant meringue lollipops.
Drape the main table in layers of cascading silk to replicate the soft twirls of a meringue.
Use a plump meringue as place card holder – place one on each guest's plate and use tooth picks as flag posts for the actual cards.
Create hanging guest favours – a raging trend at the moment. Thread meringues onto fishing line and suspend them from the chandelier over each guest table. Arrange with the waiters to snip the line and place the meringues in gift boxes at the end of the reception.
Serve pavlova (a meringue base topped with fruits and cream) as dessert. For a more interactive option, set up a pavlova station where guests can choose toppings for their own individual mini meringue nests.
Have a meringue-only dessert table with an assortment of meringues in various colours and interesting flavours such as vanilla hazelnut, cherry liqueur, mocha and caramel. Provide mini gift boxes for guests to fill and take home as guest favour.
If you have the figure to pull it off, opt for a meringue-style puff dress. Alternatively, ask the designer to decorate the wedding dress with meringue-inspired fabric flowers.
For more Wedding Meringues, the original photos above and their credits, make sure to check out our Meringue Wedding Inspiration Pinterest Board!