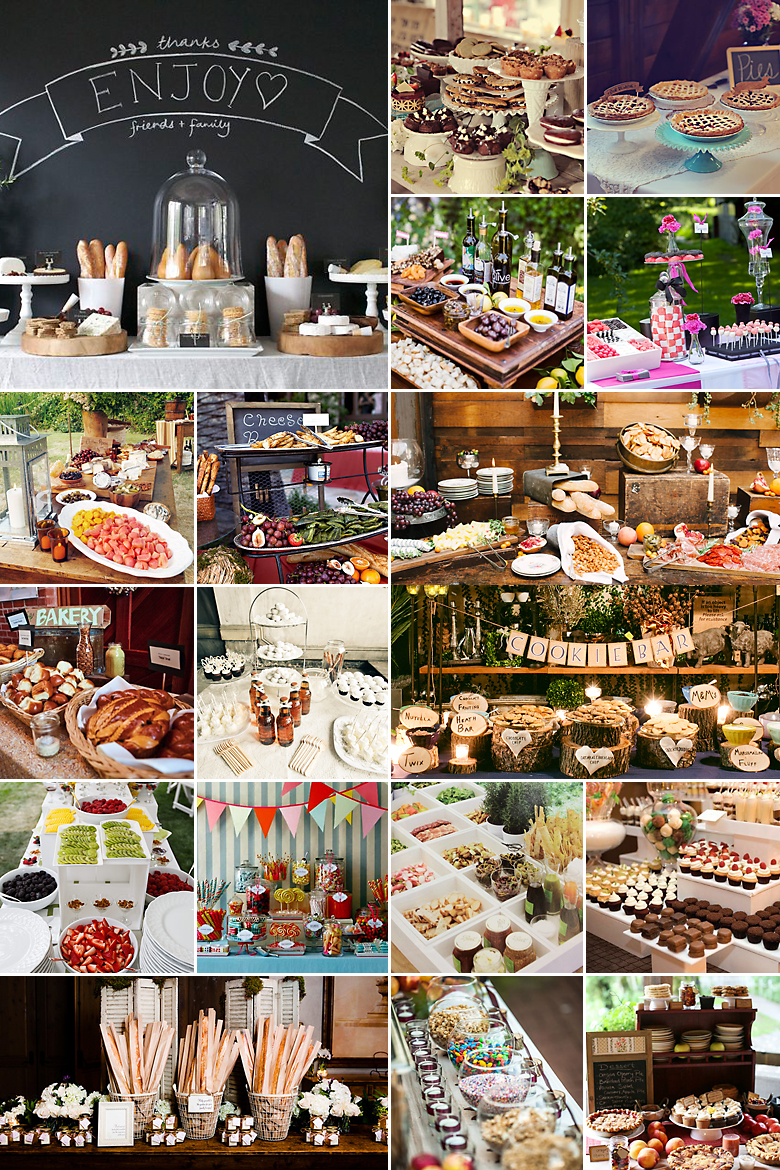 Buffets have been synonymous with wedding receptions since way back in the day, however these days it's more than just a matter of serving shepherd's pie, potjiekos and rice. Here's a quick look at the different types and tastes.
Salad Bar: Generally a salad bar goes well with plated mains or a hot buffet, yet it's also a great idea for a starter as a means of getting guests on their feet to mingle before dinner. Try maintaining a balance between hot and cold salads, as well as filling pasta salads and lighter salads such as Caesar or chicken.
Bread Table: As in the case of the salad bar, a bread table can be set up alongside a hot buffet or buffet-to-table. However if you're on a tight budget a bread buffet is the ideal replacement for starters or canapés – because it's so filling, you can serve smaller mains. Usually the table would consist of a variety of breads, often from across the world, served with a variety of cheeses, pestos or preserves.
Pasta Buffet: Perfect for winter, this comfort food buffet is a real belly warmer (and filler!). Here guests have a choice of a variety of pasta dishes, some of which are usually vegetarian and even vegan if your guest list leans in that direction. Alternatively you can hire a chef to set up a pasta station where guests can pick and choose their own ingredients for their pasta. Remember to serve veggies or salad on the side.
Finger Buffet: Packed with finger food, the finger buffet is usually ideal for a cocktail party or starters. However there's been a trend lately to serve each course as a finger buffet which allows guests to sample more of the tastes without letting too much go to waste.
Hot Buffet: Probably one of the most common buffet types. The hot buffet has been around for ages, offering guests a selection of hearty main course dishes – from roast beef, fish and curries, to lasagne, stews and bakes, served with side dishes such as veggies, rice and potatoes.
Buffet-to-Table: This buffet-type is probably the trendiest and most popular at the moment. Here mini buffets are laid out on each individual guest table, which gives a much more homier feel than having to queue for food. Planners have also found that a lot less food goes to waste than with a hot buffet as you have much better portion control and guests don't dish up with the mindset of "take all you can, for there's no coming back".
Breakfast Buffet: This one's rather self-explanatory, and simply ideal for a morning wedding, especially if guests had to get up early to be in time for the occasion. There's the option of the usually muffins, croissants and muesli, or you can shake things up with an omelette station or smoothie bar.
Dessert/Teatime Buffet: This type of buffet is generally not recommended if you have something like a pasta buffet as the main course which is rather filling. These days the most popular treats are macaroons, cake pops, mini tartlets, cupcakes, miniature cheesecakes/crème bruleé, and so forth. This buffet can also be built around the wedding cake, but only if guests are allowed to slice into the cake and munch a piece.
Candy Buffet: The name really says it all. Candy buffets are really an excellent way to add some fun to your wedding and really build on your colour scheme. In the end they can be incredibly striking and so very eye-catching from a sweet tooth perspective. What's more, a candy buffet can double as dessert and guest favour, saving you a rand or two in the process.
Original images and their credits available on Pinterest