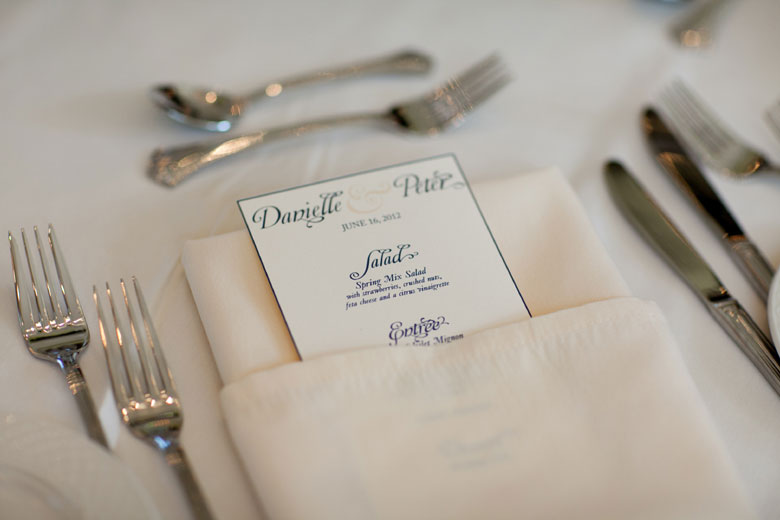 Choosing a menu for your wedding day requires that you take several factors into account. Since you will be catering to a wide range of people, all of whom have their own personal tastes and preferences, it is tempting to opt for a buffet, allowing them to choose their meals. However, if a plated meal is important to you, there are some things to remember and certain factors that will influence your decision:
1. Time of the wedding – this will be the major determining factor when deciding on the nature of the meal you will be serving. Whether you are having a breakfast, brunch, lunch, tea, dinner or cocktail party will require very different menu items.
2. Your budget – food can be a very costly part of the wedding, but can also make or break the reception to a large degree. It is worth spending some money on, but it is also imperative to explore the options. The more options you give guests regarding their meal, the more expensive it will become for you, so try and keep it as simple as possible when working according to a specific budget. If you have a very limited budget consider:
A picnic
An afternoon tea
A cocktail party (with snacks)
A dessert reception
A beach barbecue
3. Variety – if possible, offer your guests a variety of foods. If there are only one or two options on your menu, at least include several different vegetables or a mixed variety in the centre of the table.
4. Get personal – you (as a couple) should enjoy your menu, and it should be meaningful to you. Choose an old family favourite or incorporate little details that are delicious to you. This could incorporate traditional foods that have been passed down to your generation or something from your favourite restaurant.
5. Taster tester – make sure that you have seen how the meals are presented and have tasted them. This will prevent nasty surprises and will ensure that you can add or take away any extra ingredients or elements.
6. Dietary requirements – it is vital that you are aware of specific dietary requirements of your different wedding guests. In the case of special requirements, ensure that the food looks just as delicious and attractive on the plate as the other meals. There are some major groups to which you can cater:
Vegetarian – this diet includes dairy and egg-products, but sometimes excludes fish and chicken as well as any red meat or organs.
Vegan – this diet excludes all animal products, including dairy products and eggs.
Kosher – in cases where the origin of food is unknown and it may have had some contact with an animal that is not kosher (such as some of the insects found in the garden), a rabbi is asked to examine and, if necessary, bless the food, making it Kosher and, therefore, safe to eat.
Halaal – in a similar way to Kosher foods, Halaal foods need to be sans certain products (such as blood, pork, alcohol, etc…) and needs to be approved by a religious leader.
Make sure to sit down and chat with your wedding caterer and / or wedding planner about any concerns you have regarding the menu and how you can cater for your guests suitably, so you can concentrate on the other details such as your wedding dress and upcoming honeymoon!
Photo Credit: vivaleur.com